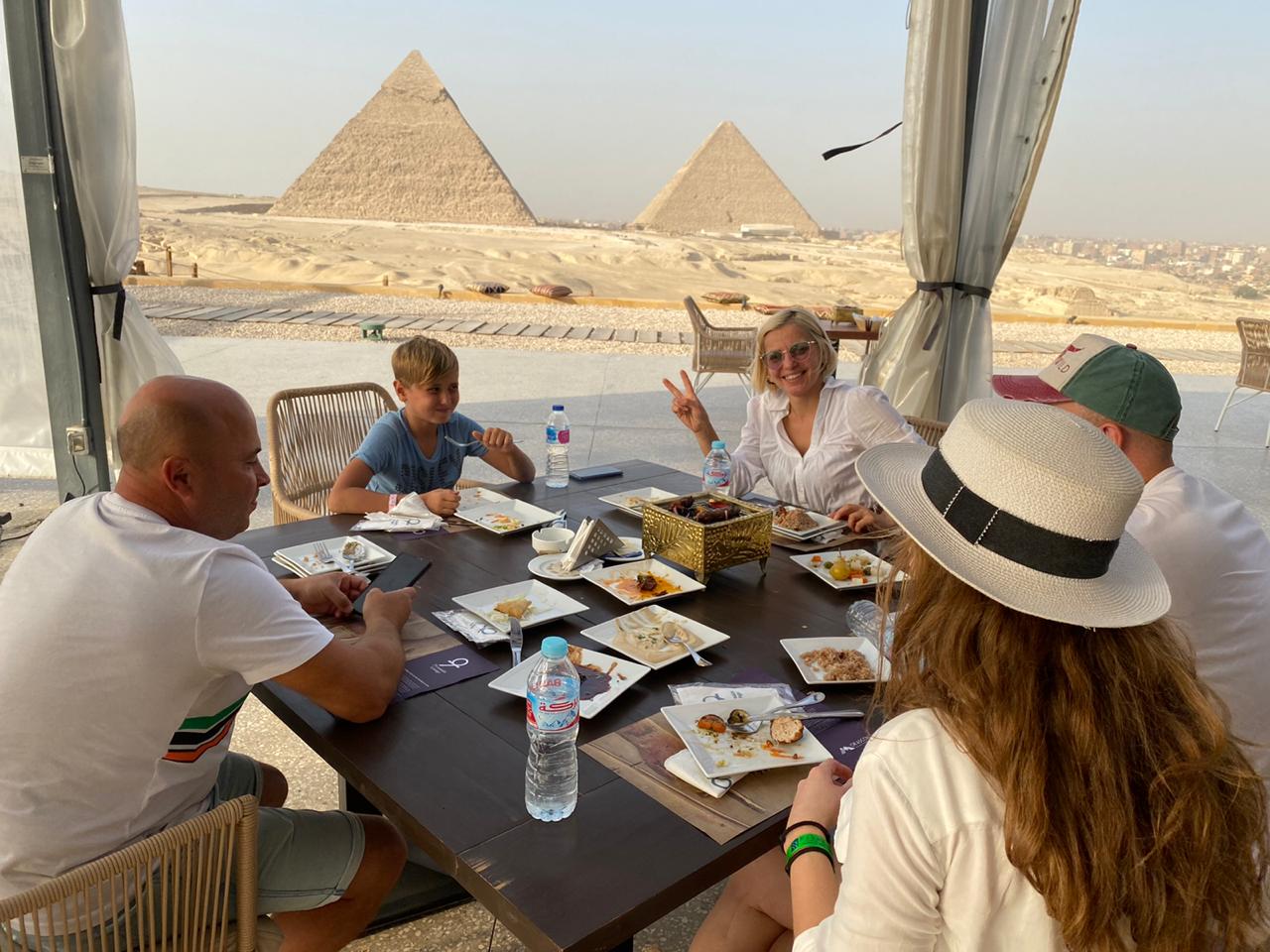 Two days after its inauguration, the Giza Pyramids area's first restaurant, Nine Pyramids Lounge, received its first tourist groups, according to an official statement from Egypt's Ministry of Tourism and Antiquities.
Tourists flocked on Thursday to the renovated area at the pyramids, including a group of visitors from Belarus and Ukraine visiting Cairo for the day from Sharm el-Sheikh to see the pyramids.
The tourists expressed their admiration for the way the pyramids were built, as well as their amazement at the enormity of the Sphinx and the way it was carved. They were looking forward to visiting the panorama area to take photos, the statement added.
After the tour ended, the group went for lunch at Nine Pyramids Lounge.
Located on the southern side of the Giza Plateau and overlooking nine pyramids, guests are sure to enjoy a unique dining experience. The restaurant and lounge take up a total 1,341 square meters divided into indoor and outdoor seating.
The restaurant is a simple wooden building. Visitors can choose to sit at tables or on pillows spread on the ground, Bedouin-style.
Nine Pyramids Lounge was inaugurated on Tuesday by the Minister of Tourism and Antiquities, Khaled al-Anani, and the Chairman of Orascom, Naguib Sawiris.
Orascom Pyramids, a subsidiary of the Orascom Investment Holding Company, owns and manages the restaurant.
Sawiris mentioned during the ceremony that the restaurant is just the first step, and during the first quarter of 2021, an Italian restaurant, an oriental restaurant and a cafe will be opened in the area.
Fifty ambassadors representing Arab, African, and foreign countries in Cairo attended the inauguration ceremony.
The ceremony also witnessed the start of a trial run for Egypt's first environmentally-friendly electric bus fleet to make pilot trips through six main stations around the Giza Plateau.
Anani stated that the fleet will be fully operational by mid-2021, once a developmental project to improve tourist services is in place.
The entry of regular cars and buses into the plateau will be banned once the buses begin to run.