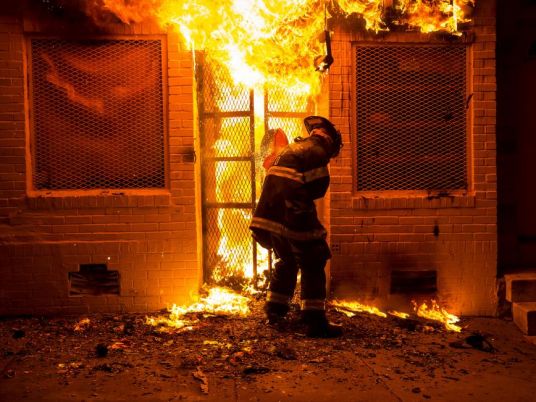 Thousands of police in riot gear and National Guard troops patrolled Baltimore to enforce a curfew on Tuesday night, dispersing protesters with pepper spray a day after the city was shaken by the worst rioting in the United States in years.
With helicopters overhead and armored vehicles on the ground, most people respected a curfew that started at 10 pm EDT (0200 GMT Wednesday) and goes until 5 am all week.
But a few hundred people defied authorities, gathering at an intersection that was the scene of heavy looting in the largely black city a night earlier. Police broke up the group using rubber bullets and projectiles with pepper spray chemical irritant, and arrested seven people. Three more were arrested elsewhere in the city.
Baltimore erupted in violence on Monday hours after the funeral for a black man who died April 19 after he was injured in police custody a week earlier.
The death of 25-year-old Freddie Gray has renewed a national debate on law enforcement and race that was sparked by police killing unarmed black men last year in Ferguson, Missouri; New York City and elsewhere.
Just ahead of the curfew, Mayor Stephanie Rawlings-Blake went to the intersection where protesters had gathered and pleaded with them to go home.
"Let's take our babies home and abide by the curfew. I want to thank you for understanding that we want to bring peace," Rawlings-Blake said through a megaphone.
On Monday, shops were looted, 19 buildings were set on fire, 20 officers were injured and police arrested more than 250 people in the city just 40 miles (64 km) from the nation's capital in Washington.
More than 2,000 National Guard troops and 1,000 police from all over Maryland, as well as from New Jersey and the District of Columbia, were sent in to restore order.
Almost a quarter of the 620,000 people in Baltimore live below the poverty line and decayed, crime-ridden areas of the city inspired the gritty television police drama "The Wire."
Cleanup
Baltimore saw scenes of reconciliation, cleanup and even celebration, as well as continued protest on Tuesday.
Groups of demonstrators marched and chanted "Black Lives Matter," one of the anthems of a national movement against police use of lethal force, which is used disproportionately against minorities.
Near a looted and burned-out CVS pharmacy, hundreds of people waved flags and swayed in the street as they watched 50 dancers gyrating to the drumming of a unity band put together for the evening from music groups from all over the city.
"It feels good to see everyone coming together. People just enjoying themselves," said Roxanne Gaither, 45. "This is what Freddie Gray would have wanted to see. Last night was terrible. If a curfew is what it takes to avoid that, so be it."
In Chicago, about 500 people demonstrated outside police headquarters and marched in solidarity with the people of Baltimore, chanting "Stop Police Violence." At least one person was arrested, but the event was mostly peaceful.
For nearly a week after Gray died from a spinal injury, protests in Baltimore had been peaceful and Mayor Rawlings-Blake said she acted cautiously on Monday to avoid a heavy-handed response that would incite more violence.
Police in Ferguson, Missouri, were widely criticized last year for an aggressive, militarized response to demonstrations and rioting after a white police officer shot dead an unarmed black teenager.
On Tuesday Baltimore's mayor responded to critics who said she waited too long to act.
"It's a very delicate balancing act, when we have to make sure that we're managing but not increasing and escalating the problem," said Rawlings-Blake, 45, an African-American and Democrat who grew up in the city.
Maryland Governor Larry Hogan, a Republican, said he had called Rawlings-Blake repeatedly Monday but that she held off requesting the National Guard until three hours after looting started. He ended up declaring a state of emergency while she imposed the curfew.
'No excuse'
The security crisis disrupted the city's daily routines. Schools were closed on Tuesday, but were scheduled to reopen on Wednesday. In a rare move, the Major League Baseball game between the Baltimore Orioles and Chicago White Sox will be played as scheduled Wednesday but closed to the public.
Gray was arrested on April 12 while running from officers. He was taken to the police station in a van, with no seat restraint and suffered a spinal injury.
Six officers have been suspended, and the US Justice Department is investigating possible civil rights violations.
"There's no excuse for the kind of violence that we saw yesterday," said President Barack Obama. "It is counterproductive."
Obama also said at a news conference the problems in places such as Baltimore were not new and need to be addressed by everyone.
"We can't just leave this to the police," Obama said, adding that, "We as a country have to do some soul searching. This is not new. It's been going on for decades."