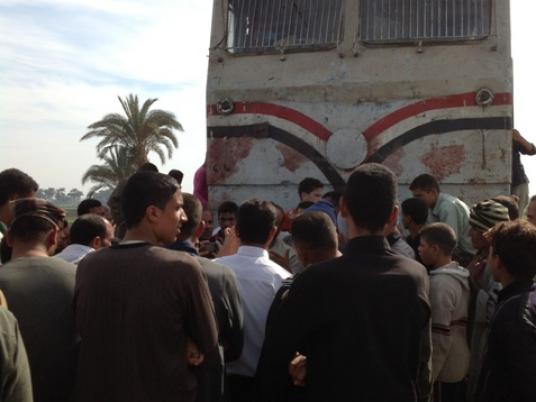 As news of the train collision with a school bus and the deaths of at least 50 people spread throughout the country, reactions from politicians and civil society groups have trickled in.
In a statement released Saturday, the Freedom and Justice Party described the resignation of Transportation Minister Rashad al-Matiny as "democratic tradition that we've been missing during the former regime."
The party demanded a quick trial of those responsible for the incident and cast blame upon all officials in the Transportation Ministry, ranging from top officials to the barrier worker at the railway crossing, saying that neglect and corruption from the former regime were still manifest in the ministry.
Al-Azhar has sent a delegation from the Azhar Institute to the site of the crash to provide assistance to families of the victims and the injured. The students who were on the bus were studying at an Azhar Institute-affiliated school.
Azhar institute sector secretary Gafar Abdallah said Al-Azhar Grand Sheikh Ahmed al-Tayyeb commissioned the delegation to provide LE5,000 in financial assistance to each dead victim's family and LE3,000 to each injured victim's family.
Tayyeb also asked the delegation to conduct an extensive investigation into the crash and to report on it immediately to the Al-Azhar grand imam.
And on the political side, the Shura Council's Transportation Committee decided Saturday to form a nine-member fact-finding committee, which will file a report with the council during its next session.
Akram al-Shaer, former Member of Parliament for the ruling Freedom and Justice Party, blamed the former regime for failing to develop the railway system.
Shaer posted on Facebook, "Disasters are not solved with resignations, even if they are obligatory. The series of killings continue on Egypt's railways, and [we should not] forget the Swedish grant to freely secure and develop the railways [that] was rejected by Mubarak regime."
He added that the grant would have allowed young engineers to travel to Sweden for training courses, and said that in its absence there is no comprehensive plan to improve safety on Egypt's rails.
Meanwhile, the 6 April Youth Movement blamed President Mohamed Morsy for what it called the "Assiut disaster" and demanded that Matiny be put on trial.
Ahmed Maher, general coordinator of the movement, said in a press statement Saturday that Morsy is responsible since he chose the Cabinet. He called on the president to clear state bodies of corrupt officials and remnants of former President Hosni Mubarak's regime, and added that he should supervise the development of a new administrative system.