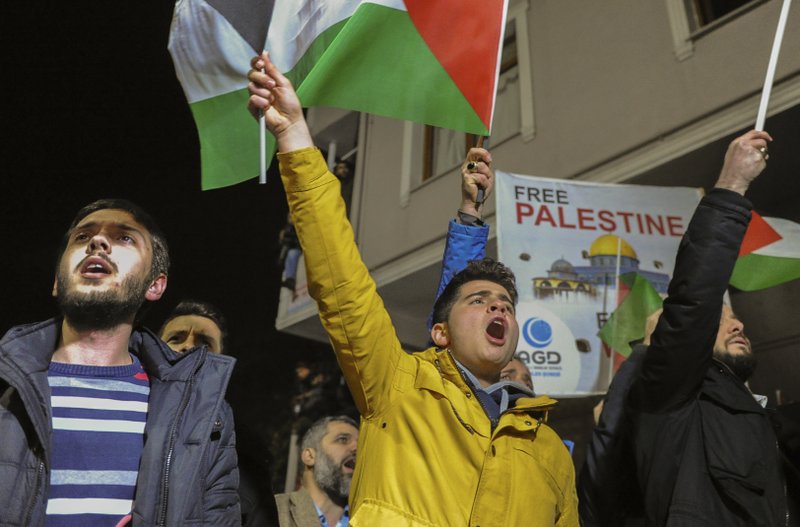 The Palestinians overwhelmingly oppose President Donald Trump's recognition of Jerusalem as Israel's capital and have little faith in the US or their Arab allies, according to a poll released Tuesday.
The poll found that 91 percent of respondents consider Trump' declaration last week to be a threat to Palestinian interests. Forty-five percent believe the Palestinians should cut all contacts with the US, submit a complaint to the International Criminal Court and launch an armed uprising against Israel.
Trump's declaration departed from decades of US policy that the fate of Jerusalem should be decided through negotiations. The Palestinians claim east Jerusalem, captured by Israel in the 1967 Mideast war, as the capital of a future independent state. Israel says the entire city, including east Jerusalem, is its eternal capital. East Jerusalem is home to sensitive Jewish, Muslim and Christian holy sites.
Trump said his decision merely recognizes the fact that Jerusalem already serves as Israel's capital and is not meant to prejudge the final borders of the city. But Palestinians saw the decision as siding with Israel on the most sensitive issue in the Israeli-Palestinian conflict.
Trump's Mideast team, led by his adviser and son in law, Jared Kushner, have been shuttling throughout the region for nearly a year, meeting with Israeli, Palestinian and Arab leaders as it prepares a peace plan. The US is expected to present its proposal next year, with a look to taking a regional approach that involves major Sunni Arab countries, such as Saudi Arabia and Egypt.
In Tuesday's survey, 72 percent of respondents said they believe the Trump administration will not submit a peace plan, while just 24 percent think it will. Eighty percent of respondents said they do not trust the Saudi role and 70 percent do not trust Egypt. Egypt has close security ties with Israel, and the Saudis are believed to have covert ties with Israel in an alliance against Iran.
Asked about the most effective means of establishing a Palestinian state, 44 percent called for armed resistance, while just 23 percent believe nonviolent resistance is most effective. Three months ago, only 35 percent supported armed resistance.