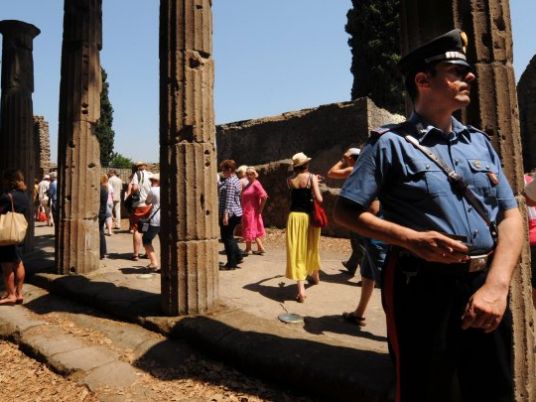 Years of neglect at the ancient Roman city of Pompeii are being dug and scrubbed away in a last-minute bid to keep money flowing from a huge European Union-backed renovation program.
Workers in hard hats beaver away as tourists visiting the Italian World Heritage site peer through screens and wire fences at ruins of ancient houses where restorations are going into overdrive.
Submerged under volcanic ash when Mount Vesuvius erupted in 79 AD, Pompeii is one of the most visited archaeological sites in the world, giving a unique glimpse into daily life under the Roman empire.
But years of mismanagement and corruption have exacerbated decay at the sprawling, 66 hectare (163 acres) site, prompting the European Union to intervene. In 2012, it pledged 78 million euros (US$87 million) to finance urgently needed repairs.
Italy threw some 27 million euros behind the Great Pompeii Project, which aims to rebuild collapsed arches, right sagging walls, clean frescoes and protect the area from water-logging.
Fast forward three years and only around 21 million euros out of the total 105 million euros on offer have been spent. Unless the site managers do the rest of the work by the original December 31 deadline, they risk losing access to this money to pay for it.
"We are really working against the clock," said superintendent Massimo Osanna, an ex-university professor chosen by the government to take over in early 2014 to make a break with the site's scandal-ridden past.
"If the timing had been respected more at the beginning we wouldn't have this concentration of work that is causing problems now," Osanna said in a makeshift workshop where technicians are restoring plaster casts of Vesuvius's victims.
The project got bogged down in squabbles over who should lead the work and extra checks and balances put in place to keep contracts from falling into the hands of the local mafia.
Osanna said the pace of work has almost doubled since late 2014, with around 30 technical interventions underway.
"It has become a really busy city," he said. "Not just visitors but workers, engineers, architects, experts – just think of managing the parking! These are all small things but taken together they become enormous."
Too many sites
The hubbub is causing headaches at a site which attracts more than 2.5 million visitors a year.
"People find houses closed, lots of construction sites open, and it is difficult to get around," said Stefano Vanacore, who has directed the restoration of several homes of ancient Pompeians, including the recently re-opened Villa dei Misteri.
"If it weren't for the December deadline we would have done everything more gradually," he said.
Twenty new technicians have been hired, but there is still not enough help to go around, said architect Maura Anamaria, who is overseeing 18 million euros-worth of restorations.
"Each of us needs help and you cannot satisfy everyone's demands, you just can't. There are too many sites open and each one is complex," Anamaria said.
Even after the current flurry of work is over, the site will need a long-term maintenance program to keep it from degrading again as it had when former prime minister Silvio Berlusconi's government declared a state of emergency in 2008.
A third of the city has never been excavated and soil movements threaten the fragile ruins. Earlier this month, heavy rain raised the floor in the house of Roman nobleman Julius Polybius.
Italy now has until the end of 2015 to present a request to the European Commission to take the project into the following year with new funding.
Not falling down
A Commission spokesman said it would be possible for Pompeii to get funding in its next financing period, and the Commission was more concerned with the quality of the work than the timeframe as it is a high-profile sign of how well the EU's regional funds can work.
In Italy meanwhile, the situation is an emotive example of centuries-worth of art and architecture left to decay as a cash-strapped state failed to adapt to modern economic realities and slashed funding for the arts.
A March report from UNESCO, the United Nations Educational, Scientific and Cultural Organization, said the project was making "excellent progress" and called on the government to make sure it had enough money and manpower to ward off more collapses.
As in the cases of the Colosseum in Rome and the Rialto Bridge in Venice, the private sector has stepped in.
Aerospace and defense group Finmeccanica donated technology, and healthcare instrument maker Philips lent a CAT scanner to analyze the plaster casts, which were taken from the cavities left behind when victims' bodies decayed under the ash.
Vanacore says the work underway should have started long ago, but the current flurry is a vital step toward protecting one of Italy's greatest assets.
"If we see the walls aren't falling down, it means the heritage is being protected," he said.