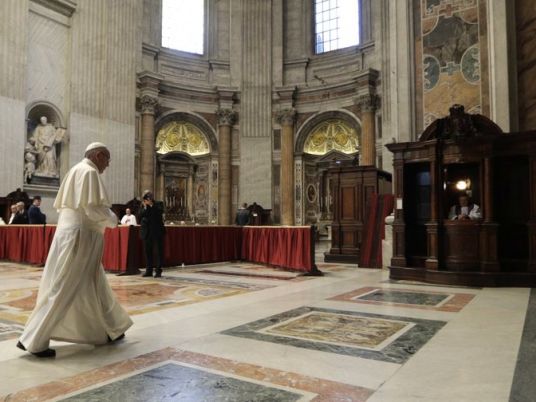 Pope Francis on Wednesday said it was "imperative and urgent" to protect civilians in Iraq, speaking as US investigators looked into who caused an explosion in Mosul that killed scores of non-combatants.
Addressing tens of thousands of people at his weekly general audience in St. Peter's Square, Francis said he was "concerned about civilian populations trapped in the neighborhoods of western Mosul".
He appealed for all sides "to commit themselves to the protection of civilians, which is an imperative and urgent obligation".
Iraqi forces backed by US-led coalition air strikes are fighting to clear Islamic State militants from Iraq's second city.
Francis' words came a day after a senior US commander acknowledged that the US-led coalition probably had a role in an explosion in a residential neighborhood of west Mosul on March 17. The incident may have killed more than 200 people.
But US Lieutenant General Stephen Townsend also said Islamic State could also be to blame.
Rights group Amnesty International has said the high civilian toll in Mosul suggested US-led coalition forces had failed to take adequate precautions to prevent civilian deaths.
The United Nations has said 307 civilians had been killed and 273 wounded in western Mosul since February 17, saying Islamic State was herding residents into booby-trapped buildings as human shields and firing on those who tried to flee.