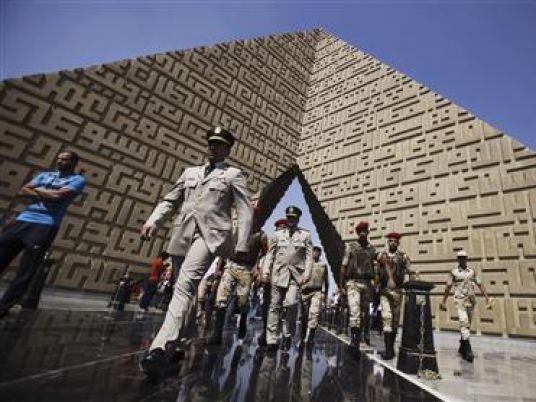 At 10.00am Cairo local time, Pope Francis is schedulled to celebrate Mass in a military stadium in Maadi on Saturday, the last event in a two-day visit to Egypt, where he has called for leaders of all faiths to reject religious violence and denounce intolerance.
Three weeks after so-called "Islamic State" (IS) militants killed at least 45 people in attacks on two Egyptian churches, Pope Francis has used his trip to launch a strong appeal for religion freedom and to accuse extremists of distorting the nature of God.
"Together let us affirm the incompatibility of violence and faith, belief and hatred," he said on Friday at an international peace conference at Al-Azhar University, the 1,000-year-old Sunni Muslim seat of learning.
By the same token, he lamented the fact that "demagogic forms of populism are on the rise" — a possible reference to rightist parties that have flourished in Europe in recent years by promoting an anti-migrant agenda.
After a dense first day of meetings with political and religious leaders, the highlight on Saturday is a Mass in the Air Defence Stadium, which can hold 25,000 people — an unusual venue for a religious service, but one that highlights the security concerns surrounding the trip.
Military Humvees patrolled largely deserted streets in the Egyptian capital on Friday, although the pope himself declined the use of an armoured limousine, preferring instead to travel in a simple, blue Fiat car.
After the Mass, the pope will have lunch with Egyptian bishops and give a speech to local seminaries before heading back to Italy in the late afternoon.
Egypt has some 9 million Christians, making up 10 percent of the total population — by far the largest Christian community in the Middle East. Most of the Christians are Copts with barely 250,000 members of Churches within the Roman Catholic fold.
The 2,000-year-old faith is facing the worst persecution of its history in Egypt, with Islamic State militants threatening to wipe out local Christians and attacking their churches.
The campaign of violence has undermined Egyptian President Abdel Fattah al-Sisi, who appealed for more international cooperation when he met Francis on Friday.
"I affirm again that ending terrorism once and for all requires more coordination and solidarity among all powers that love peace in the international community," he said.
Report by Philip Pullella; Writing by Crispian Balmer; Editing by Giles Elgood