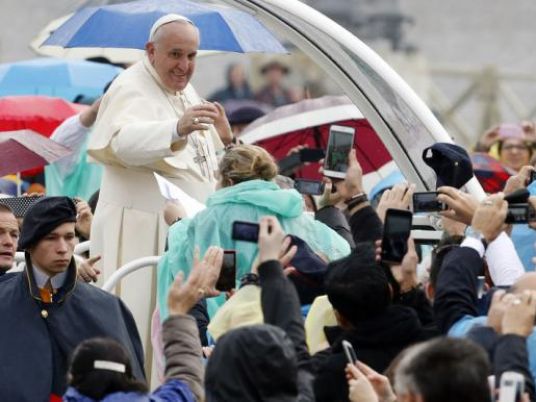 Bishop Emmanuel, Archbishop of Luxor's Catholic Christians and Chairman of the Organizing Committee for the Visit of Pope Francis, the Pope of the Vatican, to Egypt, considered the Pope's anticipated visit on April 28 as a message that Egypt is safe and stable.
He said at a press conference Thursday that the visit has four dimensions. First, relations with Egypt's political leadership, headed by President Abdel Fattah al-Sisi, who has already met with the pope in 2014; and second, the pastoral part, relating to inspecting the Catholic Church and encouraging the efforts of all its institutions to serve the community.
The third dimension is of special importance because it relates to dialogue with the Islamic world in general, and Al-Azhar University in particular.
The fourth dimension is about relations with the Orthodox Church, which are very intimate relations, Emmanuel mentioned.
In response to an Italian reporter's question on the situation of Christians in Egypt, he said that they enjoy equal rights with Muslims, adding that both constitute a single fabric.
He sent a message to the Italian people through the Italian news agency saying: "There is no need to worry about Egyptian Christians. The June 30 revolution saved us from drowning because Egypt is [divinely] guarded."
"The incident is painful, but the state is making every effort, and responds to all requests [by Italy] to reveal the truth," he said. "I do not know if it is on the agenda," he added, responding to a question about whether the case of murdered Italian student in Cairo Guilio Regini would be discussed during the pope's visit.
Edited translation from Al-Masry Al-Youm