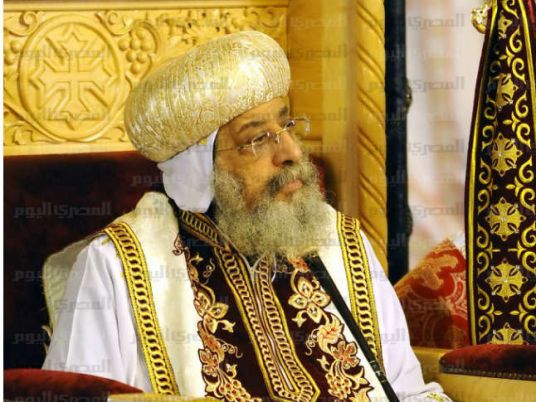 Pope Tawadros II, the head of the Coptic Orthodox Church, sent out a message to expatriate Coptic Egyptians on Monday expressing his strong opposition to demonstrations planned in the US against the alleged persecution of Copts in Egypt.
"I oppose any demonstrations that may harm Egypt and cause conflict with higher authorities," said the Pope in a statement published on the website Copticworld on Monday. "These demonstrations will not change our situation and only serve to tarnish the image of Egypt nationally and internationally," reads the message.
The message appears to be an attempt to appease the expatriate Coptic community after a bout of sectarian strife in recent months that has resulted in fatalities, house burnings and assault on Christians of Egypt's rural communities.
Preempting agitation from Copts abroad, the Pope stressed the importance of solving local issues internally, without international interferences.
"We, in Egypt, are capable of dealing with our problems and their consequences," the Pope went on. "I ask you, in Jesus' name, to avoid this kind of behavior. It is not acceptable in any of our churches in the USA. These demonstrations will blemish our country and fuel evil."
A few weeks ago, the US-based watchdog, Coptic Solidarity called for the staging of protests in front of the White House in Washington D.C. this Tuesday in reaction to the recent wave of sectarian attacks in Egypt.
Following in the footsteps of Coptic Solidarity, the Canadian Coptic Association has also announced plans to hold a demonstration on August 13 in front of the Canadian parliament in Ottawa before marching on the Egyptian Embassy to bring attention to the deteriorating status of Copts in Egypt.
Since the January 25 uprising in 2011, Egypt has witnessed many incidents of sectarian violence, often in rural areas.
Minya in particular has been the scene of several sectarian clashes recently. A month ago, a young Christian man was killed and three others injured in a knife fight in Tihna al-Jabal village, sparked by an alleged verbal attack on a local priest.
In May, an elderly Coptic woman was stripped of her clothes and dragged through the streets of Karam village, Minya, after rumors were spread that her son was having an affair with a local Muslim woman. Several Christian homes were torched that same week as a result of the tensions.
Then in late July, a mob in the village of Saft al-Kharsa in Beni Suef attacked a building under construction after suspicions were raised that it was to be an unlicensed church. The attack led to the destruction a Christian man's house and a car.
During a recent meeting with members of the parliamentary committee on religion, Tawadros expressed his concern over the alarming number of sectarian attacks in Egypt in recent years, saying that the reality of the situation needed to be recognized.
He added that the Coptic Church is currently dealing with a great deal of anger on the part of Copts, both those living in Egypt and abroad. He said that such anger cannot be held at bay indefinitely.
In response, President Abdel Fattah al-Sisi received Pope Tawadros and several senior figures in the Coptic Orthodox Church last Thursday for discussions on relations between Egypt's religious communities.
During the meeting, Sisi stressed the unity and brotherhood of all Egyptians, both Muslim and Christian, according to Alaa Youssef, a spokesperson for the presidency.
Sisi praised the wisdom and patriotism shown by Egyptian Christians in dealing with the challenges that Egypt has had to face over the past few years, and stressed that all Egyptians are equal in rights and duties under the Constitution.
The political and social upheaval seen in Egypt since 2011's popular uprising may have brought challenges, as the president stated, but with the challenges has come change for the better, in Tawadros' eyes.
"Our circumstances are completely different from those of five or ten years ago," the Pope said in conclusion his message on Monday. "We should not try to deal with newly evolving events in old ways. May blessings be bestowed on the obedient, as disobedience leads only to failure."