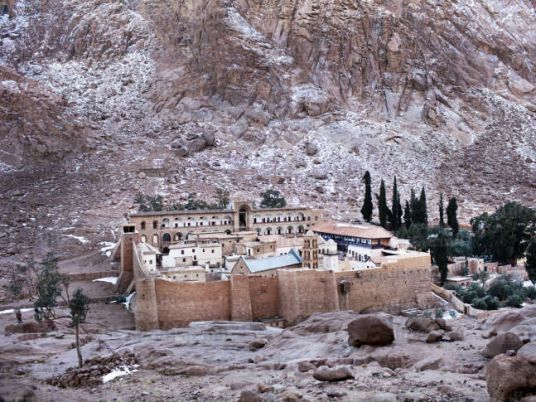 Egyptian Meteorological Authority (EMA) official Eman Shaker announced on Monday that there is a possibility of snow atop the mountains in Saint Catherine and central Sinai on Tuesday and Wednesday as temperatures continue to cool.
During a phone-in with Ahmed Moussa's TV show "Ala Massoulity" (By My Responsibility), Shaker denied speculations that snow might hit other parts of Egypt, reiterating that any snowfall will only occur in areas of high elevation.
A low pressure system centered on Cyprus is due to meet another in Egypt on Tuesday, bringing temperatures down to around 14C. Wednesday will be even cooler, with a predicted high of 12C.
Shaker added that nighttime temperatures will drop to -2C in Saint Catherine. With the possibility of snow, tourist facilities in the area have been closed until Friday.
Upper Egypt will also experience severe cold temperatures at night, with a low of 4C predicted to bring a massive frost on its agricultural lands.
Rain that started on Monday over Matrouh and Salloum will increase on Tuesday and Wednesday, bringing heavy thunder and showers over central Sinai and moderate showers to Cairo and the Nile Delta region.
Cold winds will blow throughout the country, with waves on the Mediterranean and Red seas reaching six meters high on Wednesday.
She advised the public to avoid standing under billboards, trees, and old buildings, as they might fall due to the wind.
Shaker said that the instable weather is expected, as there was a similar case around this time last year.
Edited translation from Al-Masry Al-Youm