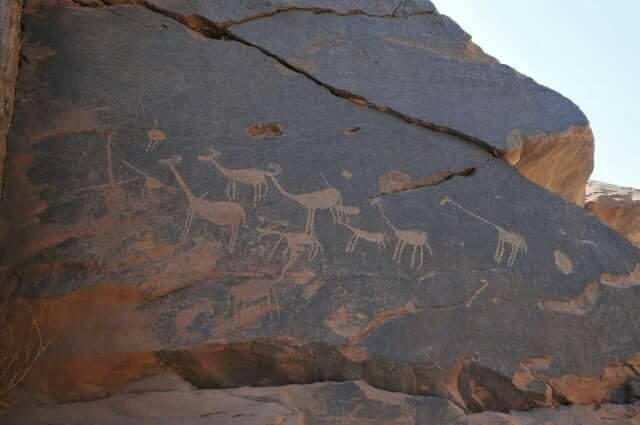 An Egyptian archaeological mission discovered a predynastic graffiti rock that dates back to the late stone age, during an archaeological survey carried out in Subeira Valley, south of Aswan, Egypt's ministry of Antiquities said in a statement on Tuesday.
The graffiti is engraved on the sandstone rocks, depicting scenes of wild animals, such as hippopotamus, wild bulls, donkeys, as well as gazelles, Mostafa Waziri, Secretary-General of the Supreme Council of Antiquities said in a statement.
Engravings showing workshops for the production of stone tools and instruments were also discovered.  The newly discovered graffiti is rare in Egypt, and has only been found in two sites in Al-Qarta and Abu Tanqoura, north of Komombo town, Nasr Salam, Director General of Aswan and Nubia Antiquities said, adding that the discovery helps in dating all the discovered inscriptions in Subeira Valley.
Salam added that the number of archaeological sites in Subeira numbers 10 sites, all of them dating to 15 000 years ago.
Kelani described the discovery as important because it dates to the same period of those found in caves in the south of France, Spain and Italy, which confirms the idea of the transfusion of art and civilization from Africa to Europe.