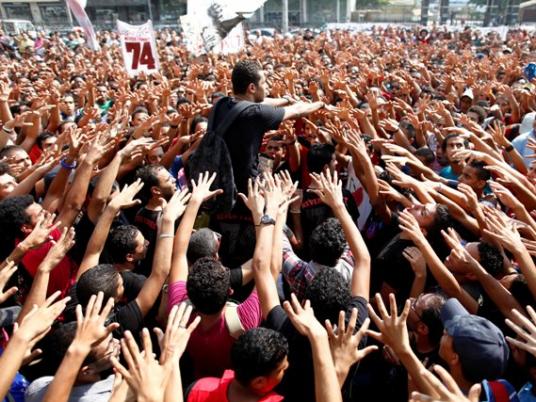 The Board of Directors of the Egyptian Football Association decided on Thursday to resume football activities and resume the Premier League on 15 December, after a meeting with heads and representatives of the clubs participating in the league.
The meeting was attended by representatives of 15 clubs including Ahly, Zamalek, Military Production, Arab Contractors, Enppi and Ismailia.
According to the Football Association's website, the attendees agreed to start the league no later than mid-December, and to notify the relevant authorities including the ministries of interior, defense and sport of the precise date along with the timetable of the games and the stadiums where they will take place.
The Premier League was suspended in February after 72 Ahly fans, mostly members of hardcore football fans Ultras Ahlawy, were killed following a match between Ahly and the Port Said-based team Masry.
The league was postponed more than once due to Ultras Ahlawy protests against resuming football activities before anyone has been brought to justice for the Port Said killings.
Some workers in the sport sector demonstrated demanding the resumption of football activities, while others supported the demands of Ultras.