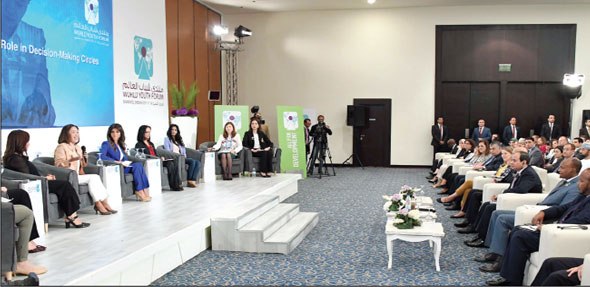 During a session at the ongoing World Youth Forum entitled "The Role of Women in Decision-Making Circles" on Wednesday, President Abdel Fattah al-Sisi hailed women's efforts in combating terrorism following June 30, 2013, when the president gained power through a military takeover.
Sisi added that Egyptian women have urged their families and neighbors to take to the streets to call on the president to confront violence and terrorism.
President Sisi lauded Egyptian women for taking on the responsibility of raising their children during marriage, while also criticizing men for avoiding paying alimony to their divorced wives despite the fact that it is their responsibility to do so.
Sisi asked young men to take care of young women and treat them in a way that reflects the humanity and civility of Egyptians.
Women's empowerment is accomplished by showing respect as well as providing them with jobs in leading positions, he added.
Sisi also young men to stand together for peace and in confronting terrorism.
"Egypt is a country of stability, peace, and humbleness. Let us appeal for dialogue, tolerance and understanding from the sacred land of Sinai," he stressed.
Edited translation from al-Masry al-Youm