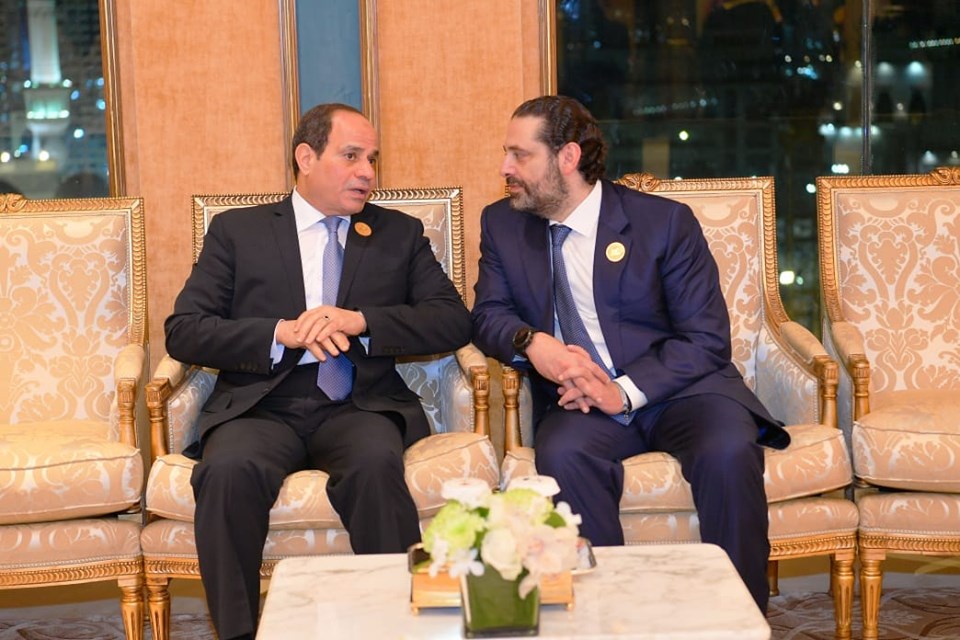 Egyptian President Abdel Fattah al-Sisi on Friday met with Lebanese Prime Minister Saad al-Hariri on the sidelines of the Islamic Summit in Mecca, discussing various issues of mutual concern.
In a Saturday statement on Facebook, Presidential spokesperson Bassam Rady said that Sisi assured Hariri of Egypt's pride in the deep relations the two countries share. Sisi expressed his nation's wishes for Hariri and his government to prosper, fulfilling the ambitions of Lebanon's people in achieving progress and security.
On his end, the Lebanese Prime Minister valued the strong relations between the two nations.
Hariri further expressed his country's appreciation towards Egypt as a key pillar in supporting and maintaining stability in the Arab region, praising Egypt's inspiring successes in it's path of development.
Rady said that the meeting dealt with ways to enhance bilateral cooperation between the two countries, including the possibility of benefiting from Egypt's expertise in various fields such as electricity, infrastructure and energy projects.
The meeting also stressed the importance of enhancing trade relations between Egypt and Lebanon and maximizing the volume of mutual investments.
The two leaders agreed on continuing mutual consultation and cooperation, to ensure external forces do not tamper with the peace of Arab countries and destabilize their security.
Rady added that the meeting also touched on the regional political scene, including the situation in Syria and other Arab issues.