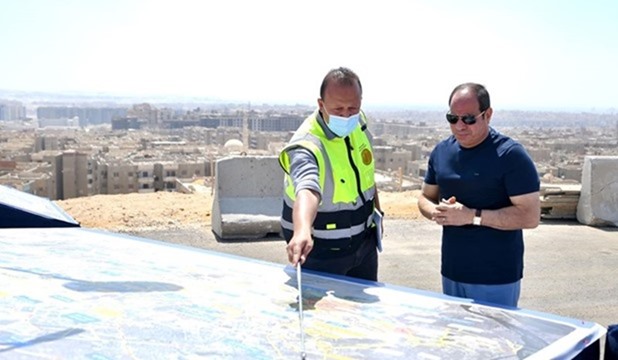 President Abdel Fattah El Sisi said those in charge of implementing roads and axes are keen to keep archaeological areas and cemeteries untouched, noting that work on these roads and axes mainly aims at optimizing traffic flow.
During an inspection tour of the construction work to develop a number of roads and axes in Greater Cairo, President Sisi said it is impossible to touch any areas, including celebrity graves or archaeological sites.
The State managed to streamline traffic in East Cairo, and then proceeded to achieve this in other areas, including the densely-populated areas of Ramses, Bab al-Khalq, Abdin, Qasr el-Qubba and Shubra el-Kheima, the President said.
He added that the State is also working on linking the areas of Cairo governorate, along with improving the traffic flow on Salah Salem Road, which is currently going through a development process.
The road network and axes, which have been finalized, aim to connect all districts of Cairo, sooth traffic flow and facilitate the movement between all Cairo neighborhoods, he further noted.
This will also help solve the problem of traffic congestion, he said, adding that the State is doing the same in Giza Governorate and its districts of Faisal, Haram, Giza and Sheikh Zayed.
The State has been working on the construction and development of roads and axes nationwide since six years, he stressed.