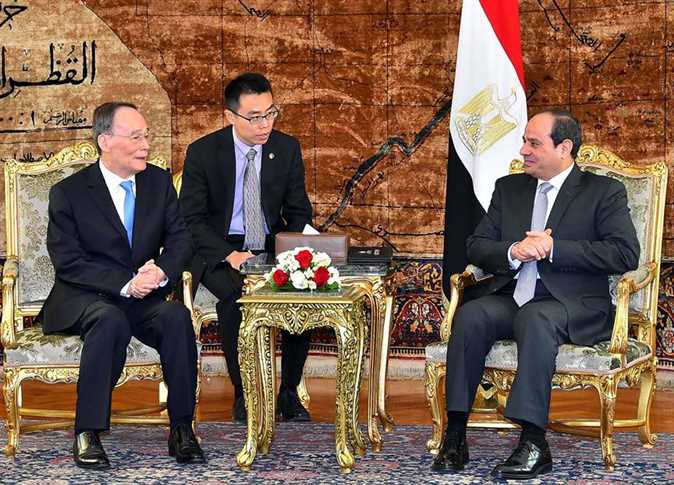 Egypt's President Abdel Fattah al-Sisi on Saturday received China's vice president Wang Qishan and his accompanying delegation, with the presence of Prime Minister Mostsfa Madbouly, Foreign Minister Sameh Shoukry and Minister of Commerce and Industry Amr Nassar.
Spokesman for the Egyptian presidency Bassam Rady said that Sisi hailed the development of Egypt-Chinese bilateral relations and their upgrading to a comprehensive strategic partnership, stressing his confidence in the future of this partnership for the benefit of the two countries.
Qishan in turn praised Egypt's recent achievements in economic reform and stability, as well as the completion of several major national projects within a short period of time. He added that this has encouraged major Chinese companies to work in Egypt and contribute to these projects.
He stressed the Chinese government's support for Egypt's development on various levels, especially within the economic and trade fields.
Rady said that Sisi explained that the priorities of Egypt's strategy with China are to promote relations across various fields, as well as encourage political cooperation in international forums on various issues in light of the great compatibility between objectives of the Egyptian foreign policy and its Chinese counterpart.
Sisi expressed his appreciation for China's support in Egypt's development, especially with the many major projects currently underway.
The president explained his aspiration to promote direct Chinese investments in Egypt, as well as joint cooperation in many other fields, such as in space technology.
He also expressed Egypt's welcome to recent achievements at the China-Africa Cooperation Forum, stressing confidence that it will serve African and Chinese interests given both sides' interest in developing opportunities available to them to further joint cooperative relations.
Sisi said that Egypt was keen on strengthening joint relations between China and Africa during Egypt's presidency of the African Union in 2019.
The Chinese vice president noted Egypt's role as one of the most important African countries and that it's chairmanship of the African Union during 2019 held a lot of promise for the future, as it proves conductive to continuous cooperation between the two countries to develop relations with the African continent.
He pointed out that relations with Africa are of great interest to China, especially as China launched the "Belt and Road" initiative to promote cooperation and integration between Asia, Europe, the Middle East and Africa.
The talks also touched upon other regional issues of common interest. Qishan expressed his country's support for Egyptian efforts against terrorism, uprooting extremism and reaching political solutions to resolve crises in the Middle East.
Edited translation from Al-Masry Al-Youm