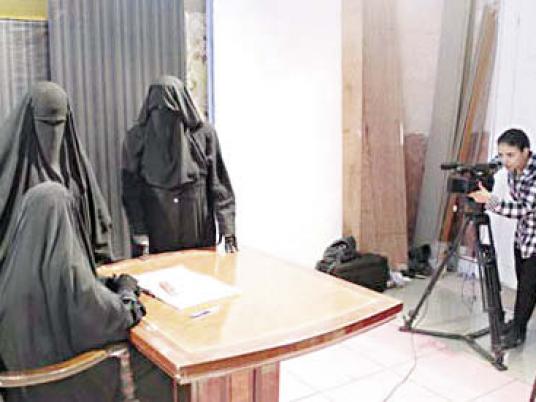 Sheikh Abu Islam Abdullah is a man on a mission to shake up Egypt's media establishment.
He says, the "traditional media" is dominated by the forces of democracy, Christianity, Zionism, communism, and possibly those who believe in more than one god — and all of it is apparently a nefarious US-sponsored plan.
But his new channel, Maria, will offer an alternative perspective. Only women wearing the niqab will be featured on the channel, which will address everyday, rather than strictly religious, topics.
Denouncing "the slavery of polytheism," Maria started broadcasting a limited number of programs on Thursday 19 July, in daytime slots on Abdullah's existing al-Omma Islamic Channel. The presenters spoke in a quiet and deliberate monotone, with the camera focused squarely on their niqabs so their eyes were visible — except when the presenters had chosen to cover those too.
First steps
Niqab wearers were "humiliated in Mubarak's era," Abdullah claimed, speaking to Egypt Independent.
The devout entrepreneur expects the channel to get off to a rocky start, due to its relatively inexperienced staff, but wants to develop the talents of niqab wearers, and hopes to attract more well-known figures in the future.
Sara Mohammed Reda, the general coordinator of Maria channel and administrator of al-Omma channel, asks that critics tune-in, and watch the shows.
"I just don't want people to judge us before watching our programs, because this is unfair. The niqab won't affect how viewers get the message from the presenters, the eyes are enough," she said.
"Here we want to defend women's rights in Islam and show how Christianity neglects these rights," she added. "Our families and husbands are very happy and they encourage us."
Critics are concerned both about the message the channel will be sending about women, and also about Christians.
Egypt Independent viewed one program asserting the idea that not only should women wear the niqab but that they are also forbidden from talking to men outside their close family.
Enas Abu Youssef, a media specialist at the American University in Cairo's faculty of Mass Communication and a member of the National Council for Women, is opposed to the promotion of such ideas.
"They think that these channels protect women and their rights but in fact, it's something that degrades and humiliates both women and men by treating women as sex objects that must be covered, and the man as an animal who is only attracted by the woman's body. Women are human beings, not sex objects," she said.
A platform for sectarianism?
Maria was the name of one of the Prophet Mohamed's wives, who was an Egyptian Copt. She was given as a gift as a slave to Prophet Mohamed, who married her, and freed her from slavery after she gave birth to a boy. Much of Abdullah's rhetoric concerns what he calls the "problem" of conversions to Christianity — which are legally impossible in Egypt, and not, by many accounts, a common phenomenon.
Yet, Abdullah denounces numerous unspecified "violations" on the part of the Coptic Orthodox Church, which he described as "living in a volcano of anger made by American hands." Over the last 20 years, he said, "the official [Coptic Orthodox] Church submitted itself completely to American Zionism, which contaminated their thoughts."
Abdullah is also the head of the Islamic Center for Enlightenment, charged with the main purpose of preventing Muslim conversions to Christianity.
On 20 July 2011, Naguib Gobrail, a lawyer and the head of the Egyptian Union of Human Rights Organizations, submitted a complaint against Abdullah to the Attorney General, accusing him of stirring sectarianism, and showing contempt and disrespect for Christianity.
According to Gobrail, Abdullah's al-Omma channels uses offensive phrases such as "beware of Christianization" and describes some Christians using the phrase "the new terrorists." The complaints were ignored by the Egyptian courts, according to press reports quoting Gobrail.
Abu Youssef, the media professor, argues that television is still dangerously under-regulated in Egypt, providing an insufficiently stringent framework for combating sectarianism and slander. She believes that television, in any case, is not the place for religious propaganda, but ought to relate to people across communal divides.
A voice in the wilderness
Perhaps because of his controversial, and sometimes baffling, views, Abdullah is confident that he could not get his new channel broadcast from inside Egypt. Instead, the channel's programs are sent to London and broadcast from there.
Nor does Abdullah have support from the religious establishment of his homeland. Several sheikhs at Al-Azhar University have repudiated the idea of the channel. Abdullah thinks they're stuffy. "They are deprived of the enjoyment of creativity to the extent that creativity became a kind of dissonance and oddity to them," he says.
The sheikh feels excluded from both state and private mainstream media.
"Traditional media people are communists and by saying that I don't insult them, I just describe them. Those media people are the real enemies of Islam who launch wars against it in a hidden frame of professionalism that allows them to manipulate politics in a way that offends the Islamic religion and that's why they hate my new idea," said Abdullah. "They are supported by America, which pays them millions of pounds," he added.
In particular, be believes that the television series for Ramadan this year, which exceeded LE1.07 billion, are intended to oppose Islam and President Mohamed Morsy, whom he grudgingly supports in the absence of Salafi leader and former Presidential candidate Hazem Saleh Abu Ismail.
While Abdullah is keen to use his new channel to promote women's involvement in politics, he has very definite ideas about what sort of politics they ought to get involved in.
"Democracy is a kind of disbelief and moral decadence. It's a term that was exported to us from outside and we followed it although we have a better equivalent for it in Islam called 'Shura' that aims at protecting the society, not diffusing false beliefs in the name of freedom," he says.
Abdullah is, furthermore, opposed to political parties. "We take our religion from Quran and Sunnah, which mentioned only two parties in Islam, 'Allah's party and the devil's party' not the Nour or the Freedom and Justice parties," he said, disdainfully.
Although Maria is the first channel for women wearing niqab, it seems that it won't be the last. There is another channel, Al-Hor Al-Ain, that is now preparing to broadcast with alleged Kuwaiti funding under the leadership of Sheikha Safaa Rifai, who is also involved with Maria.
Abu Youssef is bewildered about the political priorities represented by the establishment of these channels.
"The strange thing is that instead of building factories, or extending water and sewage networks to some of the slum areas or even removing garbage from the roads, some Islamists are thinking now about covering women and establishing channels for those wearing the niqab," she said.
This piece was originally published in Egypt Independent's weekly print edition.