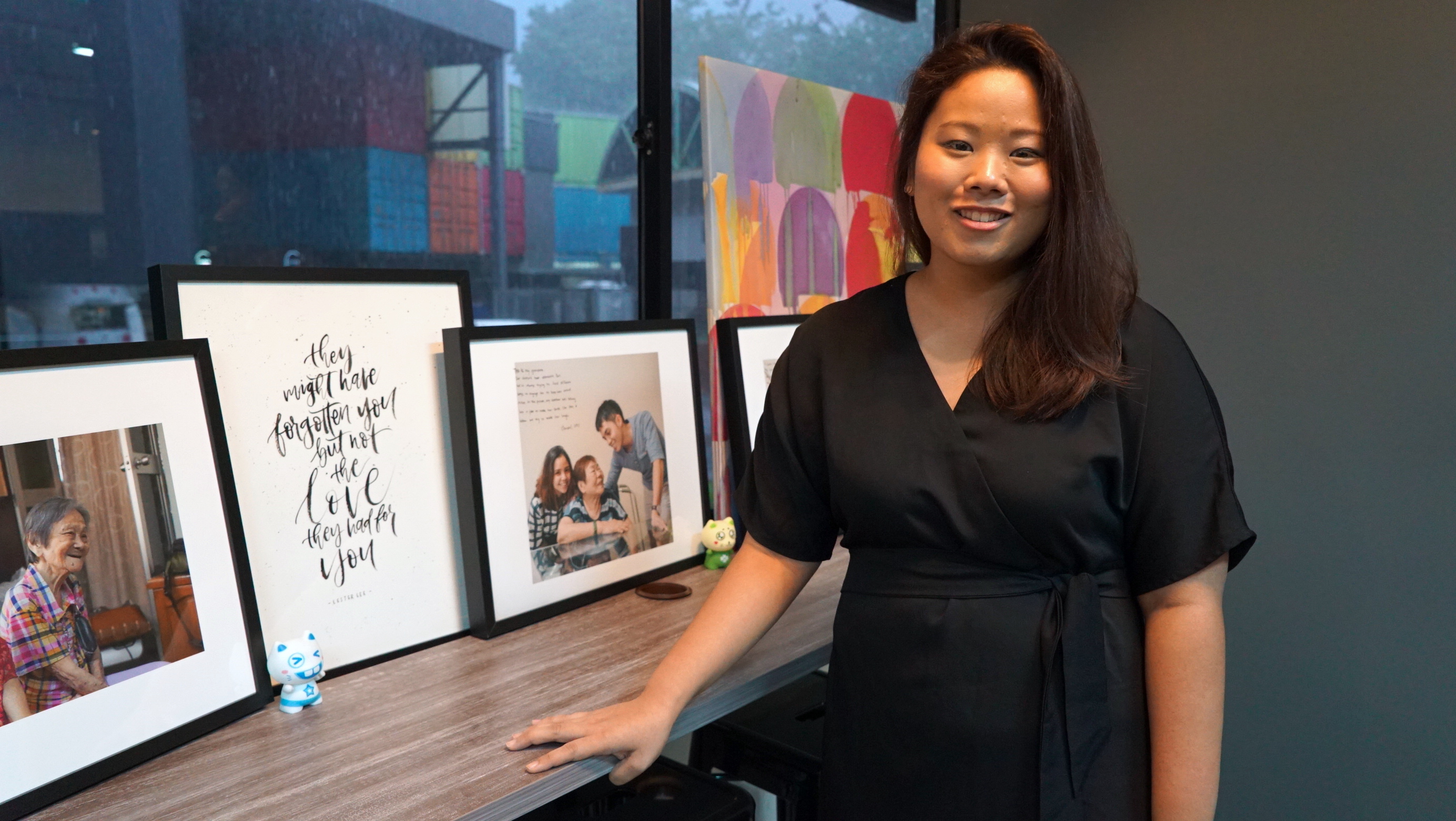 By Charmaine Ng for The Straits Times
After her father was diagnosed with early onset dementia at age 54, Melissa Chan's life changed forever.
At just 14 years old, she became a young carer and struggled with the sudden role reversal. Where her days had once been filled of catching up with school friends, they were now spent bathing her father and preparing his meals.
As a teenager, she didn't understand the disease nor why it was stealing her father away. When he eventually forgot who she was, Melissa began to doubt her own worth. "I wondered if I was not good enough to be remembered. A lot of questions ran through my head," said Melissa, now 28.
Back then dementia was not talked about as much as it is now. "I never knew what dementia was, medically, and how it affects your brain," said Chan. "Looking back, I would have really appreciated knowing what the symptoms are and how to cope as a young carer."
And so three years ago following the death of her father in late 2014, Melissa decided to start something that would help her caregiving peers who feel as lost and overwhelmed as she did.
After graduating with a bachelor's degree in business management and working nearly four years in the finance and hospitality industries, she founded the social enterprise Project We Forgot.
Heavily committed to the project, one month in Chan took the plunge and quit her full-time job to entirely focus her energy on the new venture.
Project We Forgot offers a support system for young caregivers aged under 39. The online platform enables them to share their experiences and connect with others with the help of social media.
Inspired by the photoblog Humans of New York, she started the website and related social media accounts to give young caregivers a platform to share their experiences and encourage one another online.
Jason Foo, CEO of Alzheimer's Disease Association commented; "Some of them [young caregivers] don't even know what to do and they are so used to having their mum or dad taking care of them. The role reversal can be very difficult for the child to accept." He estimates that every year, up to 200 young caregivers are "thrown" into the role because more people are getting dementia earlier in their lives.
According to the National Neuroscience Institute in 2015, four times as many patients below 65 were diagnosed with dementia than in 2011. In Singapore alone an estimated 40,000 people live with dementia and  one in 10 are under 65 years old.
"If you think about it, this means the caregivers are also getting younger because the patients are getting younger," said Mr Foo.
Chan added: "This is where Project We Forgot comes in".
After working on Project We Forgot solo for more than a year, Chan realized she would require more manpower and a bigger platform. Last year, her one-man team expanded to include chief technical officer Neo Kai Yuan, 27, and community manager Clarence Oo, 31.
So far, the business has managed to build a community of 3,000 caregivers across social media channels. It has also engaged with more than 200 caregivers who have reached out to the social enterprise directly for help.
On top of building a community, Project We Forgot also conducts workshops, training and outreach programs at schools and other organizations.
A social networking app for caregivers is also in the works, and is expected to be released by the end of the year.
By providing these tools and services to meet the needs of caregivers, the team hopes to figure out a sustainable business model as a social enterprise soon.
"One of the first few things people say to us is that we should be a non-profit or charity instead, but as a team, we want to see how we can shape the business model for social causes," said Melissa.
She stressed that the ultimate aim of Project We Forgot is not about the revenue, but that its success is dependent on its social impact.
"As a social enterprise, it's not just about setting up a business. It's also taking into consideration the lives we're impacting and that's what stresses me."
While Project We Forgot has not yet seen any profits, it has earned financial support from both the private and public sector — its only source of funding at the moment. Last year, it was awarded a $20,000 grant under the Singtel Future Markers programme, and another undisclosed amount under the Singapore government's National Youth Fund.
While these successes have been satisfying, the journey to ensuring Project We Forgot's long-term future is still not an easy one, said Melissa, who has used her own savings to set up the business.
After more than two years working on the social enterprise, Melissa said she has learnt so much more about caregiving for patients with dementia — more than she did while her father was still alive.
Photo: Project We Forgot founder Melissa Chan founded the social enterprise in 2015, after the death of her father, who had dementia.
Photo Credit: Azim Azman