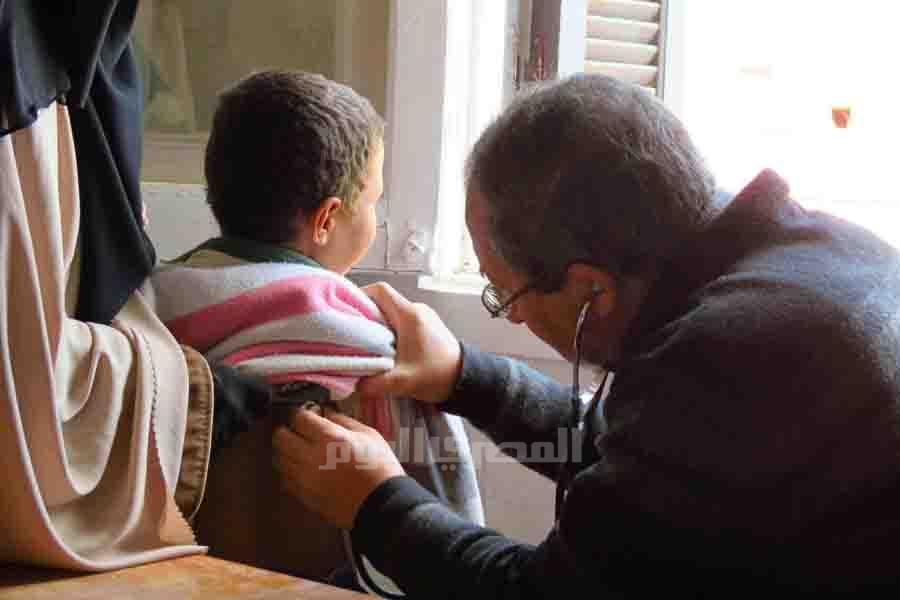 Last year on World Pneumonia Day (12 November), the Egyptian Medical Students Association NGO launched the "Protect Your Child" campaign against pneumonia, aiming to expand awareness of the illness and vaccinate high-risk children.
Pneumonia is currently the biggest killer of children under five, taking more lives annually than AIDS, malaria and measles combined, according to statistics from the World Health Organization (WHO) and UNICEF. In Egypt, this equates to around 4,000 infancy deaths to pneumonia every year.
Currently, pneumonia is not part of Egypt's National Immunization Program, meaning infants do not require vaccination.
These statistics, combined with the fact that pneumonia is a relatively inexpensive disease to cure, led to the launch of the campaign, which seeks to raise awareness around Egypt, particularly in less affluent areas, and raise funds to provide free vaccinations to high-risk infants.
Initially the goal was to vaccinate 1,000 high-risk infants, but the initiative was such a success that within the first couple of months, it received donations of nearly LE11.5 million and a grant from Canada in recognition of its innovative agenda. The additional funds have allowed it to provide up to 30,000 vaccinations.
After initially campaigning in Cairo at Demerdash hospital to provide 10,000 vaccinations and give parents and young doctors information on how to diagnose symptoms, a team comprised of professors and doctors set out on their first national trip to Wadi al-Gedid Governorate in southwest Egypt, an area where infants are at high risk of catching the disease, yet lack the means to seek treatment.
Other areas to be visited in the future include the Hala'ib Triangle, Shalateen, Sinai and Siwa.
Due to Wadi al-Gedid governorate's large size, several days were spent campaigning and promoting awareness in hospitals and villages. According to the group's report, over 800 patients were treated, and 500 families were approached and made aware of the disease and its symptoms during the trip. However, when attempting to complete paperwork to provide hospitals with pneumonia vaccines, Protect Your Child was told that direct authorization from the Health Ministry was required first.
Upon returning to Cairo, a delegate was sent to the Health Ministry to seek approval for the initiative, and was reportedly denied by Dr. Amr Qandeel, head of the Preventative Health Department.
According to the record of the meeting, Qandeel stated that without national statistics on pneumonia, the ministry could not authorize Protect Your Child to distribute vaccines to hospitals. There are no official statistics on pneumonia-caused deaths in Egypt, and it is the ministry's responsibility to collect them. Qandeel said it would take up to five years to complete this research.
Without official statistics on pneumonia deaths in Egypt, Qandeel said pneumonia vaccinations cannot be included in the National Immunization Program, regardless of WHO and UNICEF statistics. Qandeel stated that vaccinations could only be distributed for free at university hospitals.
This is a massive blow to the campaign, because infants who need to be vaccinated the most generally do not live near a university hospital. However, the remaining vaccinations purchased by Protect Your Child — approximately 20,000 — will go to waste unless provided to university hospitals, where they are less likely to be utilized.
According to Mohamed Zaazoue, project coordinator for Protect Your Child, Egyptian law allows the same families who cannot receive the pneumonia vaccination for free under the National Immunization Program to purchase it from their respective hospitals and clinics. However, they often don't know they need it or have the funds to purchase it.
The Health Ministry was unwilling to provide Egypt Independent with a statement on the issue.
Zaazoue told Egypt Independent: "The Health Ministry is trying to cover its incompetence with regard to researching and producing local statistics for child pneumonia by denying the people the right to receive this vaccine for free, so that demand for the vaccine doesn't increase, causing them to be embarrassed by their shortcomings."
The initiative has yet to determine how they will proceed, though awareness campaigns, without vaccinations, are expected to continue.