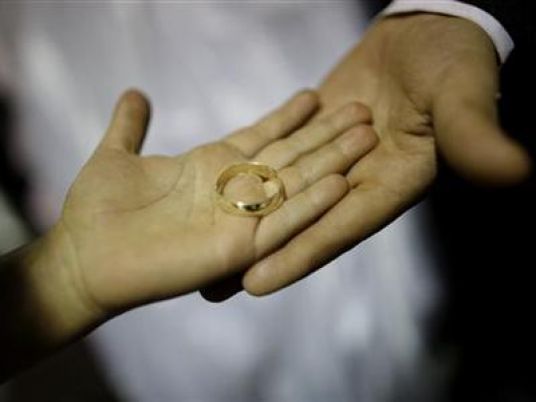 A new campaign group named "Enough Divorce in Egypt" has been launched with a view to reducing the national divorce rate, which they say is cause for concern, in both moral and mental health terms.
The group, which consists of a core of ten people, including psychiatrists and Al-Azhar preachers, staged a vigil outside the Lawyers' Syndicate on Tuesday to promote the campaign.
According to the Central Agency for Public Mobilization and Statistics, there were over 180,000 divorce cases in Egypt in 2014, compared to around 162,000 in 2013.
The founder of the campaign group is psychiatrist Helal al-Minyawy, who runs a consulting office to help solve family problems, including those related to or resulting in divorce.
As he watched the number of divorce cases rising, he decided that something must to done to stop the trend, and so he decided to launch the group, joining forces with nine others.
Minyawy said that most people get divorced between the ages of 20 and 35 years old.
"How can young people be productive if their lives are unstable and they a have a big problem like divorce?" he asked.
Minyawy said that the campaign will call for seminars at social clubs, at which Al-Azhar preachers and psychatrists will tackle the spreading phenomenon of divorce and discuss the problems of those couples who attend the seminars.
There are currently 2.5 million divorced women in Egypt, according to the Information and Decision Support Center, the Egyptian Cabinet's think-tank.
Edited translation from Al-Masry Al-Youm