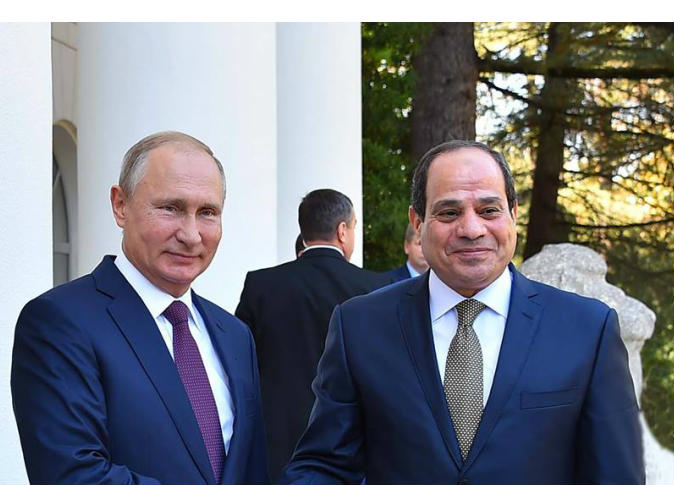 Russian President Vladimir Putin sent a message of appreciation to Egypt when he received the credentials of new foreign ambassadors in Moscow, including the new Egyptian ambassador to Russia, Nazih al-Najari.
Speaking with the new ambassadors, in the presence of Egypt's new ambassador to Moscow, the Russian President said that Russia considers Egypt one of its most important partners in Africa and the Arab world, Russia Today news website reported on Tuesday.
Putin explained that friendly relations with Egypt are gradually being built in accordance with the comprehensive partnership and strategic cooperation agreement signed in 2018, as we consider this country one of our most important partners in Africa and the Arab world.
He continued: We are in constant contact with Egyptian President Abdel Fattah al-Sisi, and the joint government committee is actively working and contributing to increasing the volume of mutual trade, which increased by more than 40% in the first half of this year.
Putin indicated that large-scale joint projects are being implemented, such as the construction of al-Dabaa nuclear power plant and the establishment of the Russian industrial zone in the Suez Canal region, noting that there are regular political dialogue and close coordination in the field of foreign policy.
He said: I would like to remind you, in the presence of the distinguished ambassadors of Algeria and Egypt, as well as their colleagues from other African countries, that the second Russia-Africa Summit is scheduled to be held in Saint Petersburg in 2023. We hope that together we can give a new impetus to the comprehensive development of mutually beneficial cooperation between Russia and African countries.
The new Egyptian ambassador to Moscow had emphasized the role of the well-established historical relations between Moscow and Cairo, during a visit to the headquarters of RT channel in Moscow, pointing out his country's keenness to establish balanced relations with all countries of the world for the common interest.
It was agreed during the visit to activate joint cooperation, especially in preparation for the 80th jubilee of establishing diplomatic relations between Cairo and Moscow.