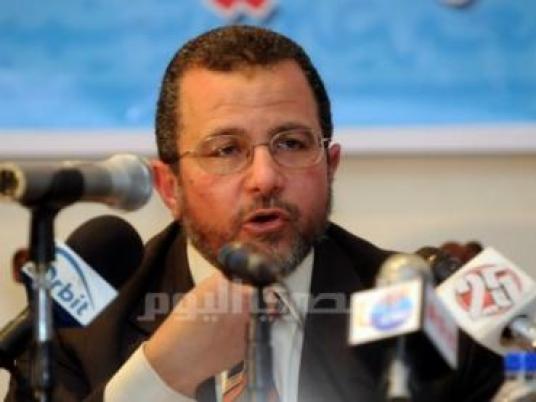 Egypt's prime minister said Monday that an agreement brokered by Cairo to stop the fighting between Israel and the Palestinians in Gaza could be close.
"Negotiations are going on as we speak, and I hope we will reach something soon that will stop this violence and counter-violence," Prime Minister Hesham Qandil said in an interview in Cairo for the Reuters Middle East Investment Summit.
Israel launched an air campaign Wednesday with the declared goal of deterring Hamas, the Palestinian Islamist group that runs the Gaza Strip, from launching rockets at its southern communities.
Egypt is seeking to reinstate a ceasefire after an informal one it brokered in October collapsed.
"I think we are close, but the nature of this kind of negotiation [means] it is very difficult to predict," he said.
President Mohamed Morsy had said Saturday that there were "some indications" a ceasefire could be reached soon, but that there were no firm guarantees.
"President Morsy is determined to play his role as a key player in the region and help mediate this," said Qandil, who visited Gaza Friday to show Egypt's solidarity with the Palestinians.
Israel bombed dozens of sites in Gaza on Monday, and Palestinian rocket fire from the enclave eased off.
The prime minister said Egypt was in contact with both Israeli and Palestinian officials, and with other regional and international players, including Turkey and Qatar, as well as the US, Britain and Germany.
"There are exchanges of visits and talks with both sides and there is also communications with various leaders from the region," he said.
Meanwhile, Egyptian Foreign Ministry spokesperson Amr Roshdy said that Foreign Minister Mohamed Kamel Amr will visit Gaza on Tuesday as a part of a delegation of Arab ministers to express solidarity with Palestinians.
In a statement, Roshdy said, "Amr will head to Gaza tomorrow escorted by an Arab ministerial delegation that will visit Gaza to express solidarity with the Palestinian people, who have been exposed to Israeli attacks for the sixth consecutive day.
Another statement said that Amr received a phone call Monday from his French counterpart Laurent Fabius who visited Gaza recently. The call is the third in two days.
Roshdy said that the call discussed their efforts to halt the "oppressive" Israeli attack on the Palestinians in Gaza. During the call, Amr highlighted Egypt's ongoing efforts to implement a ceasefire, and said he welcomed supplementary efforts.
Separately on Monday, another Egyptian official, who declined to be identified, said that Egypt was receiving "encouraging signals" about a ceasefire and said both Israel and Hamas were seeking guarantees.
"What we are trying to agree on is to achieve a ceasefire and achieve some possible guarantees, and then later discuss more guarantees," the official told Reuters.
Izzat Risheq, aide to Hamas political bureau chief Khaled Meshaal, wrote on Facebook that Hamas would enter a truce only after Israel "stops its aggression, ends its policy of targeted assassinations and lifts the blockade of Gaza."
Listing Israel's terms, Vice Prime Minister Moshe Yaalon wrote on Twitter: "If there is quiet in the south and no rockets and missiles are fired at Israel's citizens, nor terrorist attacks engineered from the Gaza Strip, we will not attack."