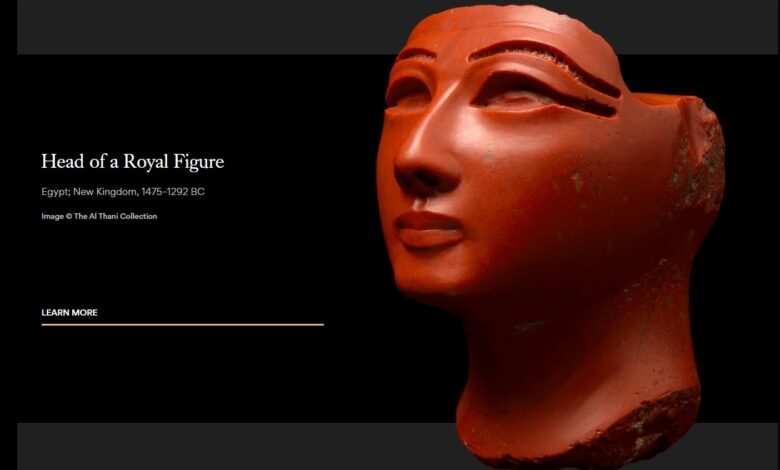 The French Ministry of Foreign Affairs announced that it will soon display the Qatari Al Thani Collection of antique artwork from ancient time to the present day at the Hôtel de la Marine in Paris.
The Centre des Monuments Nationaux (French National Monuments Center) said in a statement that "the inaugural exhibition will showcase a rich diversity of artworks representing numerous civilizations and spanning more than 5,000 years."
تُعد مجموعة آل ثاني من بين المجموعات الخاصة الأكثر شهرة في العالم وتمثّل العديد من الحضارات وتغطي فترة تتجاوز 5000 عام!

وبفضل اتفاقية بين @leCMN ومؤسسة مجموعة آل ثاني، من الممكن رؤية المجموعة في قصر البحرية في باريس بمثابة معرض "كنوز مجموعة آل الثاني".

https://t.co/tdvR6e0i8k pic.twitter.com/YAIBAx9NiU

— الخارجية الفرنسية 🇫🇷 (@francediplo_AR) November 28, 2021
"The galleries at the Hôtel de la Marine are the result of a long-term agreement between the CMN and The Al Thani Collection Foundation that will see works from the Collection shown over the next 20 years alongside a programme of themed exhibitions," it added.
Celebrating the unifying force of art across cultures, highlights range from an Egyptian head of a royal figure carved from red jasper (1475-1292 BC) and a Chinese gilt-bronze sculpture of a seated bear (Han Dynasty, 206 BC-AD 25) to a Maya mask pendant (200-600 AD) and the jade wine cup of the Mughal Emperor Jahangir (1569-1627).
Paris prepared to receive antiques from the Al Thani Collection, which is named after its owner – a member of the royal family in Qatar – Sheikh Hamad bin Abdullah Al Thani.
Over the next twenty years, the historic Hôtel de la Marine in Paris will host part of the Sheikh Al Thani Collection, which consists of about 6,000 pieces dating back thousands of years.
The Al Thani Collection had previously been shared through temporary exhibitions at major international institutions including the Metropolitan Museum of Art in New York, Victoria and Albert Museum in London, Hermitage Museum in St. Petersburg and Tokyo National Museum.