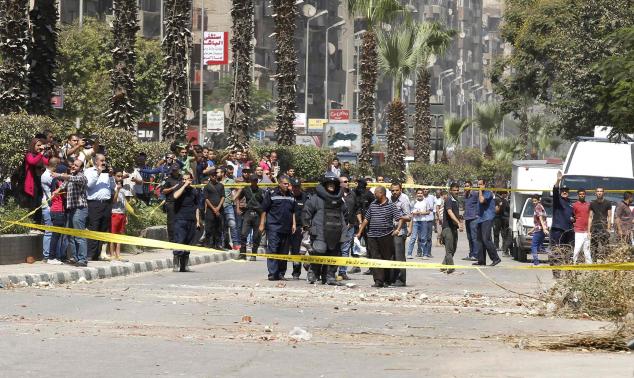 Ahmed al-Moghir, a fugitive member of the Muslim Brotherhood, has published a statement online claiming that Brotherhood members at the Rabaa al-Adaweya sit-in were heavily armed.
Moghir, a prominent young member of the Brotherhood who has been linked to group leader Khairat al-Shater, wrote on his Facebook page this week that contrary to popular belief, the sit-in held by Brotherhood supporters in August 2013 following the ouster of former President Mohamed Morsi was not intended to be peaceful, with large amounts of automatic weapons and explosives planted at the Rabaa site prior to the gathering.
The sit-in, which ended in the shooting of an estimated 800-900 Brotherhood supporters at the hands of security forces, has been dubbed by the media and human rights groups as a massacre of peaceful protesters. Moghir, however, asserted that young members of the Brotherhood had planned to use weapons to push back against any attempt of security forces to disperse the crowds.
Quoted by news portal Youm7, Moghir said, "This may come as a shock to many, but the Rabba sit-in was armed — and I don't mean armed with faith, or the courage of young people, or even with sticks. No, I'm talking about automatic weapons, Kalashnikovs, hand grenades and Molotov cocktails… There were enough weapons present at Rabaa to push back the government".
Moghir also stated, "90 percent of those weapons were removed from the site prior to the sit-in due to the betrayal of a senior Brotherhood member, but that's a story for another time."
He went on to describe his eye-witness account of armed confrontations between Brotherhood members and security forces, seen from his vantage point inside Nasr City's Tiba Mall, where a number of protesters camped out prior to the sit-in. Despite the fact that many weapons had been removed, Moghir claimed that many protesters were still armed.
He said that lots of young Brotherhood members were unfazed when they heard that security forces were coming to disperse the sit-in.
"I was inside Tiba Mall with other young people. I wasn't armed. I knew nothing at that point, other than that there were weapons and that there was a plan [to open fire] if security forces stormed the place. At 6 a.m. the dispersal started on Anwar al-Mufti Street and on the side of the Autostrad closest to Tiba Mall. Tear gas was fired for five minutes, then the shooting began," he wrote.
"The young people in Tiba Mall began to fire back. We took shelter in the building behind the mall. All of the young people were running toward the Menassa monument. I looked behind and saw a sight I'll never forget: there were protesters wielding automatic weapons, Molotov cocktails and grenades," he said.
"The defense of the Brotherhood crumbled within five minutes," he stated.
Moghir later deleted the statement from the internet, saying "I took this down at the request of lots of Brotherhood members, not because I wanted to."
Edited translation from Al-Masry Al-Youm