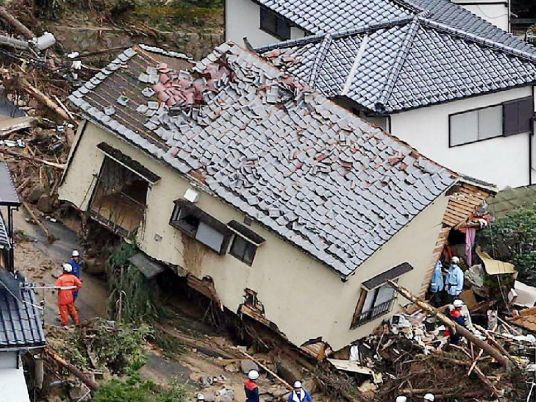 Rescuers scrabbled through mud for survivors Thursday after a powerful earthquake sent hillsides crashing down onto homes in Japan, killing at least nine people and leaving dozens of people missing.
As many as 30 are feared buried beneath the earth and rubble of multiple, large-scale landslides that struck sparsely populated countryside on the northern island of Hokkaido after a 6.6-magnitude earthquake.
Aerial footage showed wrecked farm buildings at the bottom of a hill as rescue helicopters whirred overhead in a region already affected by the edge of a strong typhoon that ravaged parts of Japan earlier in the week.
The quake left almost three million people without power after damage to a major thermal plant supplying the region, with Industry Minister Hiroshige Seko saying it could take "at least a week" for supply to be restored.
Long lines formed outside petrol stations and supermarkets as residents dug in and authorities warned that further quakes could be on the way.
Kazuo Kibayashi, an official in hard-hit Abira town, told AFP: "There was a sudden, extreme jolt. I felt it went sideways, not up-and-down, for about two to three minutes."
"It stopped before shaking started again. I felt it come in two waves. I am 51, and I have never experienced anything like this. I thought my house was going to collapse. Everything inside my house was all jumbled up. I didn't have time to even start cleaning," he added.
Public broadcaster NHK reported that nine people had lost their lives, many of them in the village of Atsuma, where the landslide engulfed their homes. Thirty-one people were still missing, according to the broadcaster, with around 300 sustaining minor injuries.
Moments after the initial quake, which struck 62 kilometres (39 miles) southeast of the regional capital Sapporo, an aftershock measuring 5.3 rocked the area, with dozens more tremors felt throughout the day.
"We will do our best to save lives," Prime Minister Shinzo Abe said after an emergency cabinet meeting.
Government spokesman Yoshihide Suga added: "I urge people in areas shaken by strong quakes to stay calm, pay attention to evacuation information… and help each other."