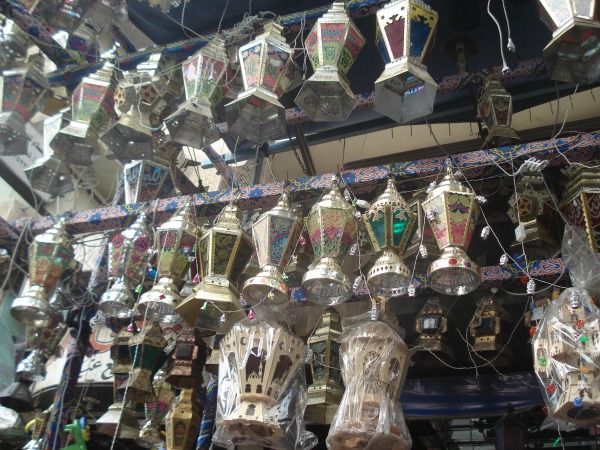 Everything is falling into place. The flashing, shimmering, colours of authentic lanterns light up the night, numerous strands of paper lanterns crisscross narrow streets, and a feeling of joy makes its presence felt despite the scenes of Egypt's unrest. Ramadan is here to slightly divert Egyptians' attention away from domestic political developments, giving a sense of enthusiasm to celebrate the spiritual atmosphere of the holy month.
Sayeda Zeinab was a great starting point in my quest for Ramadan lantern, or fanous. There was a wide array of lanterns lined up on shelves, randomly scattered in front of a series of stores running across the main street of this working-class neighborhood.
"This season, the demand is less than the last year," Mohamed Abdel-Fatah, a lantern vendor, said. He explained that Egypt's political turmoil has taken its toll on the market. "Last year, such a large batches of goods would never have still been for sale two days before Ramadan."
Traditional metal lanterns, varying in shapes and sizes, sweep the market. The multi-colored glass panels of some lanterns are printed internally with Quranic verses to give a religious touch.
The kheyameya fanous also makes a statement among the others. The kheyameya model is the traditional solid lantern, decorated with fabric printed with Arabic pattern. It is colored with a mixture of vivid red, blue, and white. This year, it is introduced with a fresh, rich look in Dokki's lantern stores. They are covered with velour fabric and adorned with golden, glimmering ribbons.
Prices have not risen steeply compared to last year because all traditional brass lanterns are Egyptian hand-made. "The rate has increased by five percent, but the Chinese lanterns' prices have gone up to 10 percent and above," Said Marzouk, another vendor, said.
The metal lanterns range from LE35 up to LE285 depending on the shapes and sizes. A kheyameya fanous that's almost a metre tall costs about LE230, but the smaller the lantern, the cheaper it costs.
Despite the fact Chinese lanterns are proving to be successful in the market, Adel Khalifa, a 55-year-old fanous maker, said that the traditional metal fanous is taking over the market this year.
"Chinese plastic lanterns are targeting the younger age group only, but other Chinese decorative lanterns are not perceived as a strong competitor for Egyptians ones," Khalifa explained, adding that both adults and children older than 10 years tend to have authentic lanterns.
Chinese lanterns, which have nothing to do with the holy month theme except playing famous Ramadan songs, have invaded the Egyptian market this year with completely different cartoon characters. Despite its Westernized appearance, the fact that the Chinese lantern offers music, motion and lights is a strong attraction which traditional, solid lantern lacks.
The Smurfs shaped lanterns have gained as much popularity as last year's SpongeBob and Angry Birds characters.
Manal Mohamed, a vendor in one of Mohandessin's kids stores, said that Walt Disney's princesses shaped lanterns along with strawberry designs are the most favorable for little girls this Ramadan, while boys go for the shapes of WWE Champion John Cena and investigative reporter Tintin. They all have the same small size and cost LE65.
But among the trendiest fanous to buy this Ramadan is a new wooden lantern made with a laser cutter machine that comes with distinguished engraving designs in beige. Princes range from LE85 to LE165.
Brass wiring lanterns ornamented with colorful round beads on the façade are among the Chinese products that do not enjoy the same kind of popularity. Some are designed with a side door allowing a candle to be placed inside while others are lit by electric light. The heavily embroidered lantern is the highly rated among others found in the market costing LE350.