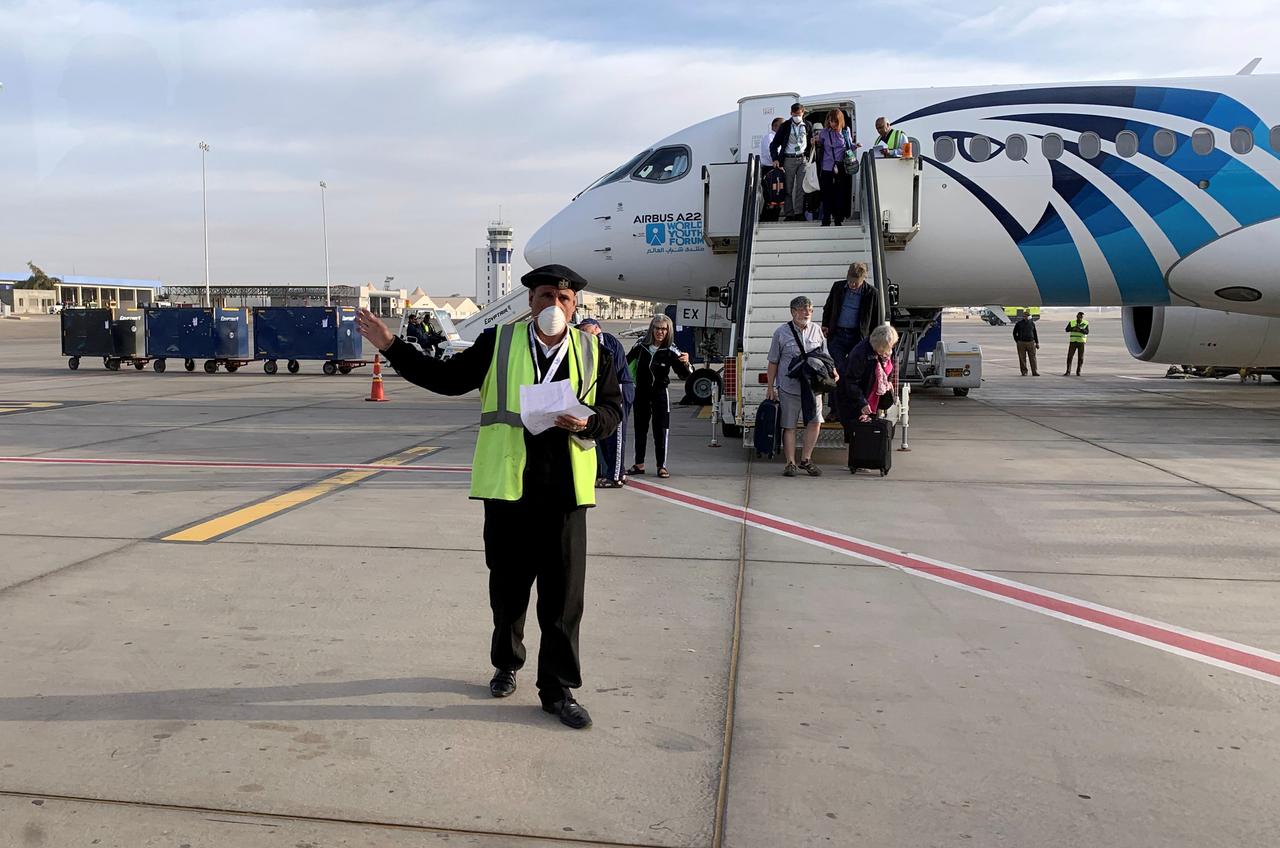 Red Sea governor Amr Hanafi announced on Tuesday that he would suspend domestic tourism in the area and implement new measures to combat the spread of the coronavirus (COVID-19), including isolating workers in the tourism sector at hotels, tourist villages, bazaars and restaurants and placing them under quarantine for 14 days.
The announcement comes after the decision to suspend air traffic in Egypt, which threatens to push Egyptian workers in the tourism industry along the Red Sea to depart the Governorate and return to their hometowns.
Egypt has moved to suspend all air traffic across the country's airports beginning Thursday at noon and lasting until March 31, as part of efforts to slow down the spread of the novel coronavirus, or COVID-19.
The measures in the Red Sea governorate will include sanitizing all tourist establishments and governmental and non-governmental facilities.
Following the departure of the remaining tourists from the Governorate, domestic tourists will not be able to enter for a period of 14 days.
The procedures also obligate tourist establishments to follow up on the health of their workers and report any symptoms of the coronavirus to the Health Ministry.
Meanwhile, passenger and cargo ferries between Safaga and Hurghada ports in the Red Sea Governorate and Saudi ports were halted on Monday.
Cruises headed to Saudi ports have been suspended, following an announcement from the Kingdom that it would temporarily suspend entry to Saudi Arabia at various ports as a precaution to prevent the spread of coronavirus.
Sources said that a ferry belonging to Namma Shipping Lines was canceled, with about 1,000 passengers having been notified, in addition to the cancellation of various trips for ferries carrying cargo.
The director of health offices in the Red Sea governorate, Emad Hamdi, said on Sunday that the body of the late German tourist, 60, who died in Hurghada Hospital last week from complications related to the coronavirus, would be admitted into the morgue of Hurghada General Hospital.
An autopsy report was submitted with the police report, in coordination with the Hurghada Police Department and the Tourism Police, and officials from the German embassy were contacted to deliver the body.
After the embassy official receives the body, it will be transferred to Cairo and prepared in a hospital before being transferred out of Egypt.
Egypt has confirmed 166 cases of the coronavirus so far and four deaths.
A 50-year-old man and a 60-year-old woman, both Egyptian nationals, have died from the disease in Dakahlia, where officials moved on Monday to place 300 families who may have had contact with previously confirmed cases in the area under quarantine.
Another German national, 72, has also died from the virus in Egypt. He passed away in Luxor, where 45 cases were earlier confirmed in connection with a cluster on an Aswan-Luxor Nile cruise ship.
Edited translation from Al-Masry Al-Youm
Image: Passengers, some of them wearing protective masks, following an outbreak of the coronavirus disease (COVID-19), arrive at Luxor International Airport, Egypt March 9, 2020. REUTERS/Mohamed Abd El Ghany