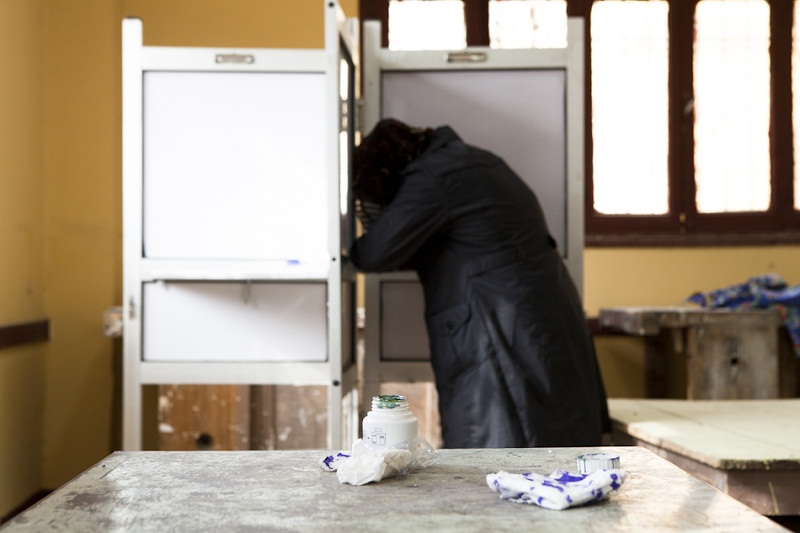 The results of this month's constitutional referendum may reveal an important shift in the country's political map, as well as a general loss of trust and interest in the political process, observers say.
Beyond a vote on the draft constitution, the referendum also represented a vote on Muslim Brotherhood rule in general, analysts argue. The Constituent Assembly that drafted the newly adopted constitution was dominated by Brotherhood and Salafi figures.
The results of this referendum would normally be compared to those of the March referendum on the Supreme Council of the Armed Forces' constitutional declaration, says Mazen Hassan, a professor of electoral systems at Cairo University. In March 2011, 78 percent of voters approved the constitutional amendments.
"But everything in Egypt is working abnormally. The March referendum is a special case where general political optimism was very high. The voting decisions were purely based on optimism, not on real awareness of the existing political elites and their performance," he says.
Hassan argues that in the recent referendum, voters were able to obtain more solid knowledge about the different political actors, and acted accordingly.
"That's why it makes more sense to compare the referendum results to the results of the presidential election, especially the runoff," he adds.
Hanan Girguis, head of the operations committee at the Egyptian Center for Public Opinion Research (Baseera) agrees. The March referendum results are too old to compare to the recent referendum results, he says.
"A lot of changes occurred in the span of two years … [and] the March referendum was a vote on the legitimacy of the military council more than a vote on some constitutional articles," she explains.
The referendum and presidential runoff
Cairo, Gharbiya and Monufiya were the only governorates that voted against the constitution. Prior to the referendum, the three governorates were already known to have significant anti-Brotherhood leanings.
Cairo and Gharbiya witnessed violent clashes between President Mohamed Morsy's supporters and opponents following the contentious 22 November constitutional declaration granting him sweeping powers.
In Cairo, fatal clashes erupted when Brotherhood protesters violently dispersed a peaceful sit-in by opposition protesters in front of the presidential palace. The crackdown led to bloody fights that left at least 11 dead and hundreds injured.
Clashes also erupted in Gharbiya's main industrial city of Mahalla when Morsy supporters fought with opposition protesters, including workers in the city's textile industry, leaving a reported 129 injured.
A strong presence of the old regime in the Delta is a marker of anti-Brotherhood voting habits. Monufiya is a case in point, where 72 percent of voters backed Ahmed Shafiq, Morsy's adversary, in the presidential election in June. The same governorate voted against the constitution with a 51.1 percent "no" vote.
Shafiq, Mubarak's last prime minister who was heavily backed by former National Democratic Party (NDP) officials, also took Cairo in the presidential election with 51.5 percent of the vote; in the latest referendum, Cairo voted against the constitution with a 56.8 percent "no" vote. In Gharbiya, Shafiq won with 62.5 percent of the vote, and 52.2 percent of residents there also voted against the constitution.
Those Delta governorates that voted for Shafiq and also approved the constitution did so with a narrow margin. In Daqahlia, where Shafiq won by 55 percent, the constitution passed by almost the same percentage.
In the presidential runoffs, Morsy won in all Upper Egypt governorates except Luxor. And, in the constitutional referendum, all nine of those governorates overwhelmingly voted "yes." Amongst them, Luxor had the lowest approval rating, with 76.6 percent of voters there in favor of the constitution.
South versus north
The rise of certain Delta governorates against the Brotherhood, while Upper Egypt's voting patterns revealed pro-Islamist tendencies, are two puzzling phenomena in Egypt's electoral map.
Prior to the revolution, the opposite was common. In the 2005 parliamentary elections that enjoyed a slightly freer and fairer atmosphere than usual under judicial supervision, Brotherhood members managed to win 85 seats, mostly in Cairo and the Delta. Upper Egyptian governorates stuck to their pattern of being the ruling National Democratic Party's main strongholds.
Illiteracy, poverty and sectarianism are the keys to understanding these shifting voting habits.
"Upper Egypt governorates have the highest illiteracy and poverty rates in the country, which opens the door for religion-based mobilization in mosques. Religious preachers, as well as tribal leaders, enjoy wide powers when it comes to how the voter makes decisions," Hassan explains.
However, the high concentration of Copts in Upper Egypt contradicts their weak electoral presence, a question that Hassan says remains to be answered.
Some analysts argue that the presence of Copts in Upper Egypt results in a heightened sensitivity to religious identity, which in turn encourages sectarian voting. Therefore, the Coptic vote reflects that population's numerical minority.
Haitham Abou Khalil, a former Brotherhood member, tells Egypt Independent that the organizational capacity of the Brotherhood usually becomes more active in religious and sectarian mobilization.
Some locals say that Coptic communities were frightened by hardline Islamic discourse and were discouraged from voting.
In addition, the absence of the mobilization of secular forces made it even easier for the Islamist influence to flourish.
"I have rarely seen mobilization by secular forces in Upper Egypt. It is an empty battle ground for the Brotherhood," Hassan says.
Girguis believes that Upper Egypt's political isolation played a major role in voting patterns as well. In a poll conducted in early December by Baseera, 17 percent of respondents in the region weren't even aware a referendum was taking place. Twenty-five percent of those who did know about it didn't know the dates it was scheduled.
"Seventy-seven percent of respondents there also said they didn't read the constitution. Unfortunately, there are no secular forces to end this isolation. Every time we ask respondents about political parties they know, their answer is: 'The Brotherhood.' They don't even mention the Freedom and Justice Party," Girguis says.
Abu Khalil agrees. "The electoral victory of the Brotherhood does not express its strength, but the weakness of its political opponents.
"In a different environment and with strong alternatives, the results are drastically different. The presidential runoff is a major example. With the presence of a strong alternative working tirelessly on the ground, Morsy only barely won the race," he adds.
Furthermore, Upper Egypt's economy depends solely on tourism and vocational jobs, which, in turn, depend on political and economic stability to thrive, analysts say. This is in contrast to the Delta where residents usually work in farming government-based jobs, which makes stability a secondary priority.
"The nature of Upper Egyptian society makes it more inclined [to work toward] restoring stability, which is usually translated by the Brotherhood propaganda machine into a 'yes' vote," Hassan believes.
Low turnout
The low turnout has been interpreted as a sign of an increasing lack of faith in the democratic process, especially given the rising political polarization that often erupts into violence, and a deteriorating economy.
Compared to previous elections, the constitutional referendum had a decidedly low turnout. The March referendum, the parliamentary elections and the presidential election all witnessed a roughly 50 percent voter turnout. In December, voter turnout was only 33 percent.
In a column published in the independent daily newspaper Al-Shorouk, former MP Amr al-Shoubaki worried that turning away from the ballot box as the main vehicle of political engagement and resorting to other — possibly violent — methods of expressing political views could be dangerous.
"It could be also a shift towards a more passive political behavior again [similar to Mubarak times]," Shoubaki says.
Girguis agrees. "There is an increasing feeling by the public that one entity is controlling everything … low turnout shows a disbelief in the whole process."
Distrust that there was adequate judicial supervision of the process also contributed to the low turnout, Girguis says.
According to a poll conducted by Baseera, only 38 percent of respondents said they would vote if the polls weren't monitored by judges.
"This percentage is very close to the turnout," she says.
But Hassan thinks the numbers indicate a different reality.
"The motive to participate in a referendum is [far weaker] than for elections, where political competition is more intense," he says.
Hassan points out that statistics show that, internationally, voter turnout in referendums tends to be almost 10 percent lower than turnout for elections.
Added to that, illiteracy rates and the complicated voting process make it difficult for many Egyptians to vote, he says.
"Voting in one day makes it impossible for more than 33 percent of voters to cast their votes," Hassan argues.
"What is more alarming and worrying is that Egypt's usual rate of voter turnout [50 percent] is the lowest among countries that have undergone similar process of transition towards democracy. In Eastern Europe and Latin America, turnout rates reached 60 and 70 percent," he says.
This piece was originally published in Egypt Independent's weekly print edition.