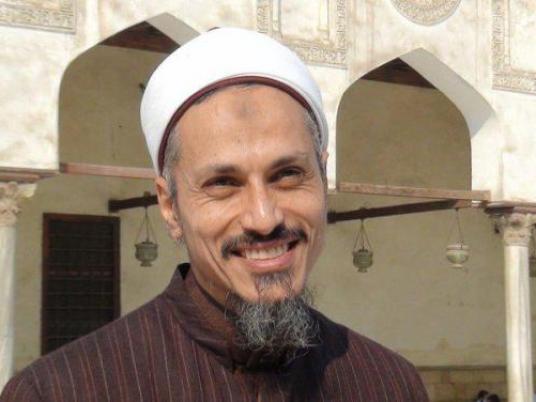 As protesters commemorated the Cabinet clashes, many remember the death of Sheikh Emad Effat, the man now idolized in many graffiti pieces and revolutionary art on Mohamed Mahmoud Street, and who became a symbol of the never-ending struggle for freedom and dignity.
"To me, the air in Tahrir Square is better than the air of Mecca," said Effat, commenting on the square's revolutionary breeze.
Little did he know, it would be the place where his body would fall to the ground and his death would become immortalized.
On 16 December, two years ago, Sheikh Effat went to Tahrir Square immediately upon returning from his pilgrimage. He was accostumed to frequently visiting the square. This evening, the atmosphere was turbulent and the sheikh joined the ranks of revolutionaries cheering amidst the violence outside the Cabinet building. He was carried back to the square on the shoulders of fellow protesters. A bullet had pierced his left arm, went through his chest and came out of his right side. It was shot from a distance of 19 cm according to the forensic report.
His body fell in the place dearest to his heart.
Two years have passed and the facts surrounding his death remain unclear. His death has become a mere a dossier in the file cabinets of the judiciary, like that of other martyrs whose murderers were not identified, as those responsible go unpunished. Yet for the revolutionaries, his blood was an impetus to continue demonstrating in the square.
Effat's last fatwa was not to vote for the remnants of Mubarak's regime in the elections. But after he died the remnants remained. And President Morsy's pledge of retribution for the martyrs also vanished in the haze.
It has been two years now and many of the revolutionaries Effat fought side-by-side with would say the demands of the revolution have yet to be met: freedom, human dignity and social justice.
Effat was born in Giza on 15 August 1959. He graduated from the Arabic Language Department of the Faculty of Arts at Ain Shams University in 1991. He later received a B.A. in Islamic Sharia and a Diploma in Islamic Jurisprudence from Al-Azhar University.
He was in charge of the fatwa at the Egyptian Dar al-Ifta and a researcher of jurisprudence at Dar al-Ta'sil.
He was a father of four sons to whom he taught honesty, ethics and love of the homeland.