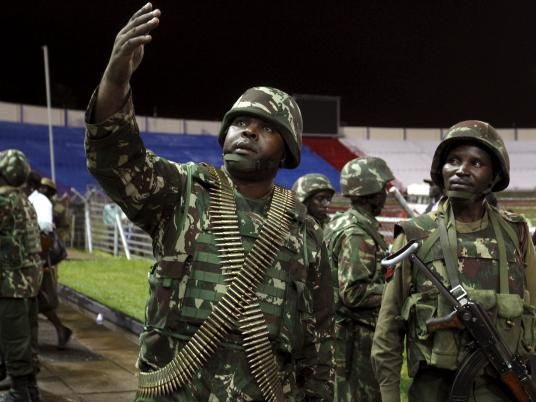 Rescue workers raced on Saturday to save more residents from the rubble of a six-storey building in Nairobi after it collapsed overnight following heavy rain. At least 12 people were confirmed dead.
President Uhuru Kenyatta visited the site of Friday night's disaster and ordered the arrest of the owners of the building, which had been condemned by the authorities.
One man was pulled out alive on Saturday afternoon to cheers from the crowd. Earlier, Interior Minister Joseph Ole Nkaissery told reporters at the scene that the cries of a woman and child had been heard. Their fate was not clear.
"We are still hearing some voices from the collapsed building," Kenya National Disaster Operation Centre director Colonel Nathan Kigotho said, in Nairobi's poor Huruma district. "We don't have the exact number of people buried in the rubble."
He said 12 bodies had been recovered from the building.
After mainly working with hands and power tools, rescue workers moved in two excavator vehicles to assist in lifting heavy masonry. Residents in the next building were pulled out carrying their packed belongings.
Heavy rains have led to building collapses in the past in poor neighbourhoods of the Kenyan capital, which residents have usually blamed on shoddy or illegal construction.
The building in Huruma in eastern Nairobi had 198 rooms, Kigotho said. Some residents escaped before the collapse and at least 133 people had been rescued.
The president told officials "to undertake an immediate survey of all the houses in the area to find out those which are at risk of collapsing", his office said in a statement.
Kigotho said the building's proximity to a nearby swollen river likely damaged the structure. "The water most likely undermined the foundation," he said.
Police said more than 120 people had been taken to hospital.
Lower floors of the building crumpled, leaving some of the top storey still standing. Broken bed frames, mattresses and clothes protruded from the wreckage.
"It is raining, and these houses were built without Nairobi County authorisation," Jonathan Mueke, deputy governor of Nairobi County, told privately-owned QTV station.
"I am asking residents in the area to leave. In the area where this one collapsed there are 189 houses," he said.