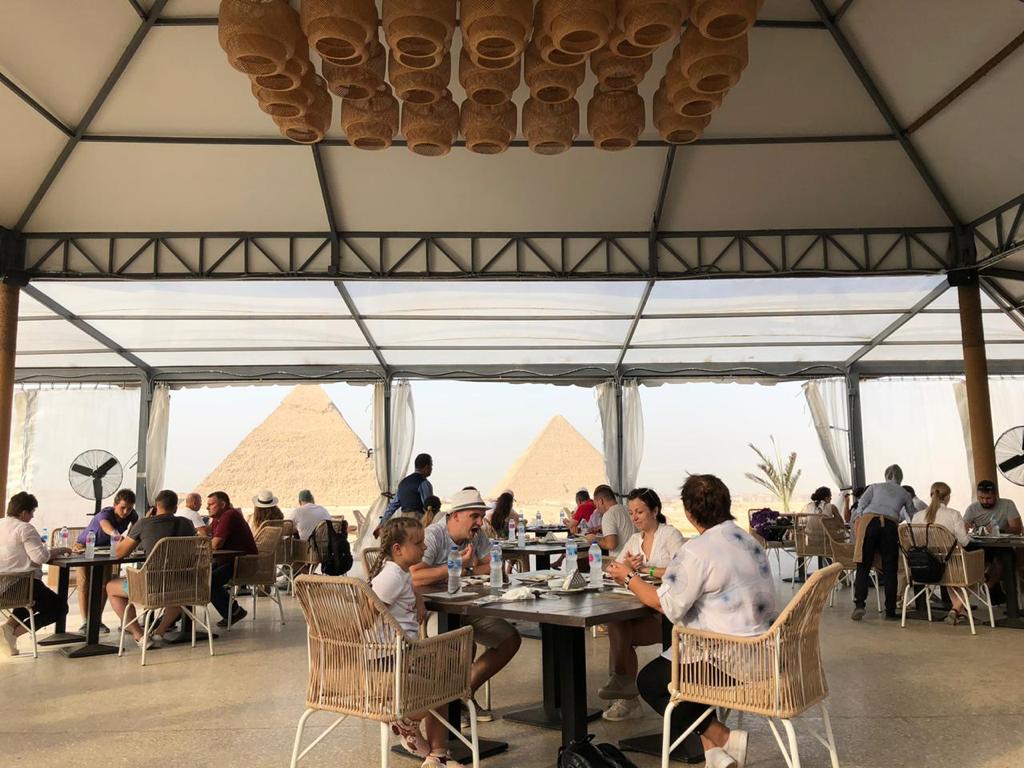 Another open restaurant will be established within the Giza Pyramids area before Ramadan, as part of the state's project to further develop the area for tourism.
Tourism and Antiquities Minister Khaled al-Anany on Monday met with billionaire Naguib Sawiris, the Chairman and CEO of Orascom Investment, to discuss the latest developments in the project to raise the efficiency of tourism services at the Giza Pyramids area.
The meeting saw agreement to open up a new open-air restaurant, built from simple natural materials without any heavy construction.
Sawiris said that environmentally friendly electric buses will start being used in the area, after the Faculty of Engineering at Cairo University approved the technical specifications and field tests for the buses.
The trial operation of these electric buses began in October, with the opening of the first tourist restaurant in the Panorama area of ​​the Pyramids Plateau.
The buses will be operated on the visit route, replacing the entry of  other vehicles and buses inside the archaeological area. The route will include six main stations starting from the Visitor Center station, passing through the First Panorama station, then the Menkaure, Khufu, and Khafre stations, ending at the Sphinx station before returning to the Visitor Center again.
Engineering work for the Giza Pyramids area development project is 100 percent finalized, having been implemented by the Engineering Authority of the Armed Forces with government funding. Preparations are now underway to start operating the project, with visitations to the area to begin from the new visitor's entrance at the Fayoum road.
The Nine Pyramids Lounge restaurant opened on October 9, the first tourist restaurant in the Pyramids Plateau. It features light, simple construction with pillows spread on the ground Bedouin style, in a unique area overlooking the pyramids.