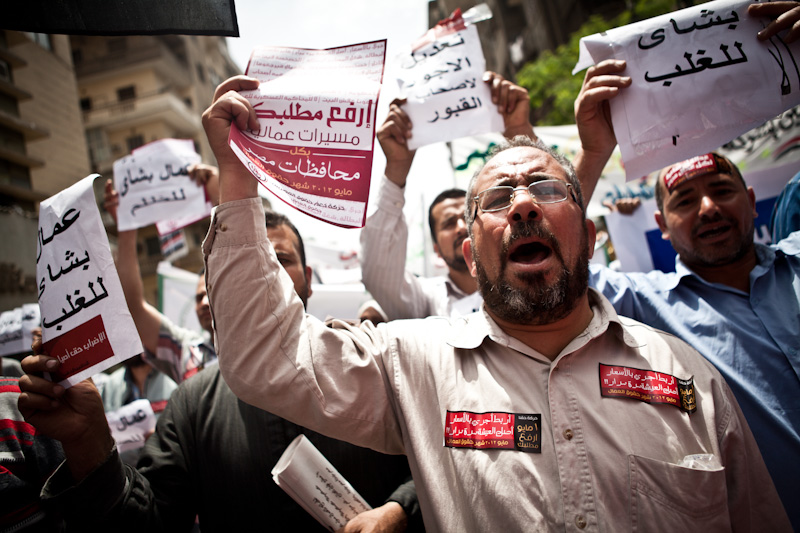 A draft law in the works to regulate protests and strikes is raising eyebrows and causing concern over the future of the right to demonstrate.
The Islamist-dominated Shura Council's Human Rights Committee has used its newly granted legislative powers to draft the law, among many others in the pipeline.
While the provisions are still being ironed out before the law is put up for discussion on Thursday, many of the 26 articles drafted so far have been criticized by human rights experts and labor groups.
The Muslim Brotherhood's mouthpiece, the Freedom and Justice daily paper, published some provisions of the controversial law on Monday. The first 18 articles regulate the right to protest, while the last eight are seen as restricting the right to strike.
Lawyer Malek Adly of the Egyptian Center for Economic and Social Rights (ECESR) says the draft law is not at all new, with many of the stipulations dating back to the British protectorate over Egypt, such as Law 14 of 1923, which criminalized anti-occupation protests.
"Most of the provisions of this draft law have been copied verbatim from Law 14. This is evident in the use of terms like 'police,' which has long been replaced by the word 'shorta,' along with other outdated terms," Adly says.
The lawyer explains that the anti-protest legislation originally formulated by British occupation forces was later adopted by Egyptian monarchs and military rulers to contain discontent.
In the years preceding the 25 January uprising, strikes and industrial action grew, and have been on the rise over the past two years.
The Egyptian Federation of Independent Trade Unions (EFITU) denounced the draft law in a statement, saying it proscribed "additional control mechanisms not witnessed before — even during the regime of Hosni Mubarak."
Adly predicts that the economic restructuring policies that will be implemented pursuant to an agreement with the International Monetary Fund for a US$4.8 billion loan may lead to further unrest.
"We are heading towards austerity measures, tax hikes, subsidy cuts and [higher] unemployment, which will quite likely prove to be unpopular. This is why the state wants to do away with political rights as well as socio-economic rights. It seeks to strip citizens of their right to object to governmental policies," says Adly.
Planning protests
A set of articles lays out strict procedures for organizing strike action, as well as prerequisites to planning protests.
Article 2 of the draft stipulates that the Interior Ministry and related authorities must be notified three days prior to a protest, or 24 hours ahead of time in case of an electoral assembly. The authorities have the right to refuse permission to hold the protest.
According to Article 3, the duration, place of protest and reasons behind the demonstration must be clearly announced in advance.
Protests cannot be staged in schools, houses of worship or state buildings, unless for the purpose of lectures, which must also be cleared by authorities, dictates Article 6.
Furthermore, a representative must be appointed to supervise each protest action and ensure that it does not get out of hand, Article 7 says, while Article 10 allows authorities to determine the designated routes of protest marches as well as funeral processions.
Articles 11 and 15 allow security forces to disperse demonstrations seen as harmful to national interests, while Article 12 requires governorates to allocate specific protest areas which do not obstruct traffic.
Possession of arms and weapons is prohibited according to Article 13, except for those of security forces.
Article 14 stipulates that protests take place after 7 am and disperse by 7 pm.
"There is no state in the world which imposes time limits on protests," says Adly, "nor do states impose designated routes for funeral marches or assemblies. This happens only when a government imposes a state of emergency due to a national catastrophe or other such disasters.
"We are no longer living under a state of emergency; therefore, these provisions are completely unwarranted," he adds.
According to the vaguely worded Article 16, protests must not go against "public morals," wording that Adly criticizes for allowing "authorities to outlaw anti-regime chants on the basis of their being immoral."
Other stipulations "grant police forces additional powers to search and frisk protesters without a warrant [Article 17], and also to disperse protests based on their whims."
Article 18 grants police the right to use force — water cannons, tear gas, batons and electric prods — to disperse any protest that continues past the permitted time frame. This provision also prohibits live ammunition and rubber bullets from being used against peaceful protesters.
Regulating strikes
A quorum of at least one-third of workers must be participate in a protest or strike for it to be authorized, as laid out in Article 19, while the ensuing provision prohibits halting traffic or railways as well as disrupting production or public transport.
The contradictory Article 21 authorizes strikes within the workplace as long as they do not harm production or the national economy.
"How can workers go on strike without halting production? The whole point of a strike is to halt production, and to use this action as a pressure mechanism against the employer," says Adly.
According to Article 22, strikers must inform their employer 24 days before their planned industrial action. Further, Article 24 says notification must be submitted in writing, and strikes cannot be undertaken without the consent of the respective union.
This article allows employers to impose lockouts and factory closures as long as workers are informed in writing or via public notices.
The EFITU criticized this for "punishing workers for exercising their right to strike, while allowing employers to impose lockouts, factory closures, punitive sackings and mass-layoffs without any legal implications — although such actions may harm the economy much more than strikes or labor protests do."
Also vaguely worded, Article 23 denies the right to strike for any workers employed in utilities companies — water, electricity, gas or communications — along with petroleum enterprises, transportation, hospitals, bakeries and pharmaceutical companies.
Penalties are detailed in Article 25, which says anyone who violates the provisions of this law or hinders production or the functioning of public/private institutions faces imprisonment for up to one year and/or a fine ranging from LE30,000 to LE100,000. Those who do not comply with the prerequisites delineated for protest action face a prison sentence of up to three months and/or a fine of between LE20,000 and LE50,000.
"The Brotherhood hopes to add this draft to their arsenal of legislation that facilitates their dictatorship over Egypt," says Adly.
The lawyer says the Human Rights Committee "have clearly not read Egypt's judicial precedents, nor have they taken into consideration the international human rights and labor rights conventions which the state ratified."
Decades ago, Egypt ratified the United Nations International Covenant on Civil and Political Rights and the International Covenant on Economic, Social, and Cultural Rights, both of which protect the rights to protest and strike.
Since the 1950s the Egyptian state also ratified the International Labor Organization's conventions (particularly Conventions No. 87 and 98), "yet the state is still imposing restrictions on these most basic of human rights," Adly adds.
However, there is the possibility that the Shura Council may not remain in place long enough to effect these laws. The Supreme Constitutional Court is scheduled to rule on the legality of the council's election on 15 January. This court previously issued a verdict dissolving the People's Assembly (the lower legislative house of Parliament) on 14 June 2012.