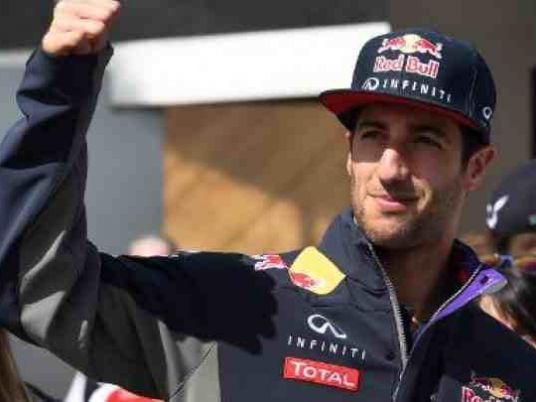 Daniel Ricciardo says Red Bull have confidence, reliability and "a plan" to beat the Mercedes pair Lewis Hamilton and Nico Rosberg in the new Formula One season, starting with Sunday's Australian Grand Prix.
The Australian is now Red Bull's lead driver after the defection of four-time world champion Sebastian Vettel to Ferrari and he is confident the team can recapture old glories.
World drivers' champion Hamilton and last year's race winner Rosberg are expected to take up where dominant Mercedes left off last year in this weekend's season opener, but Ricciardo said Red Bull have a plan to win.
Ricciardo spectacularly launched his 2014 season by finishing second in Melbourne, only for officials to disqualify him over a technical infringement.
Twelve months on and Red Bull are in a better place after testing and ready to throw down the gauntlet to Mercedes, he said.
Mercedes won the constructors' championship last season and although Red Bull were runners-up they were still nearly 300 points behind.
"If you look back on last year for sure we're in a better position this year," Ricciardo said.
"We're coming here this weekend with a lot more confidence and reliability and we've actually got a plan for Sunday where last year it was a case of putting the car on the track and hope to see the chequered flag."
Extra pace
Ricciardo said after a year behind the wheel at Red Bull he was a better driver and the team was determined to close the gap on dominant Mercedes.
"Within the team there is a lot that has progressed since then and with myself I've moved along," he said. "I feel I am a more evolved driver and have a bigger impact in the team after spending the 12 months there.
"I think it's all on the table ready for us to use and pursue to put up another strong fight so I am looking forward to that this year."
Ricciardo conceded that Mercedes have the extra pace in their cars as shown in pre-season testing, but it was a close tussle behind them.
"It looks pretty close within that group and we'll see what happens on track but it does look like the Mercs have a bit of pace again this year," he said.
"For that last spot on the podium it looks pretty close between us, Ferrari and Williams and I am sure there will be few other players coming into the mix.
"Testing doesn't really show everything and I think what it did show was that the Mercs are quick, but it's close behind them."
Ricciardo said the influential designer Adrian Newey was still around the Red Bull team, providing his experience heading into the new season despite his intention to step down.
"The vibes are still good, still strong. Adrian Newey is here this weekend and I've been asked a little bit about him and how much he's stepped back," Ricciardo said.
"I don't want to put him in the spotlight but he was at all the pre-season tests and he's here this weekend and looks like he's already done more than usually thought he would.
"So I think he's very much much interested in the RB 11 (car) and from what I can see the team definitely wants to get back on top."