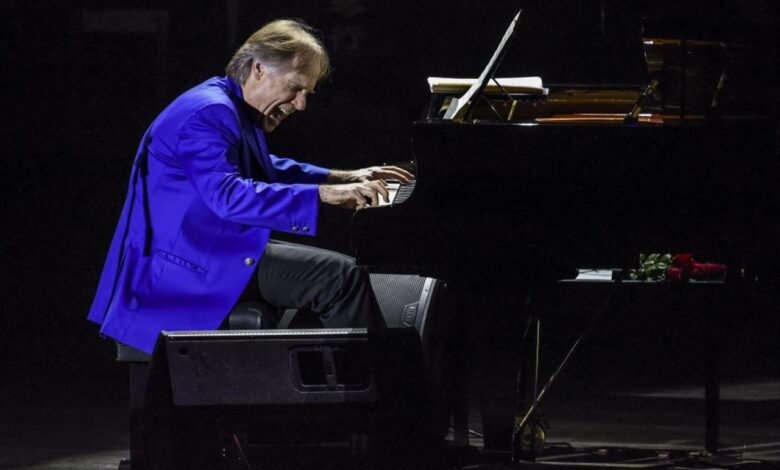 BGICC- Breast Gynecological and Immunooncology International Cancer Conference organizers are making preparations in full swing in order to prepare for the huge annual charity party.
An event is organized to commemorate the end of the fifteenth BGICC, which will be revived by the international French pianist, Richard Clayderman.
Richard is the most successful pianist in the world, as recorded by the GuinnessRecords.
Clayderman's concert will be held under the banner "Creativity and Innovation" on January 20 at the JW Marriott Hotel in Cairo.
Richard Clayderman is returning to Egypt again after his last visit in 2020.
He also held a very special concert in 2016 in Egypt to celebrate the 40th anniversary of his tremendous professional career.
The profits of these events will support and improve the quality of life of cancer patients, Hisham al-Ghazaly, Professor of Oncology at Ain Shams University and Head of the BGICC, said.
"This year's conference will be held over two days, January 19 and 20, in the presence of approximately 180 foreign scientists and experts from about 75 countries.
The profits of the ceremony will also be allocated as donations for cancer patients and for the innovation in the treatment and diagnosis of this dreaded disease," he added.
The conference will also witness a meeting with African oncology experts in a session with the participation of the Pan Africa Cancer Alliance.
The event is also considered as a vital meeting point and a bridge for oncologists and others who participated in developing a multidisciplinary approach to cross into the future in an attempt to overcome cancer and strive to introduce the public to tumors, he continued. More than 2,000 delegates from all over the world usually take part in the event.
Clayderman became known as the Prince of Romance, after the former first lady of the US, Nancy Reagan, the wife of the 40th President of the US, Ronald Reagan, called him this title for his distinguished world-famous romantic music tracks.
Among his tracks is the music from the hit film Titanic.
Clayderman is perceived as one of the most successful musicians in the world in his field, as the volume of sales of his records have reached more than 150 million records in more than 40 countries worldwide.He has 267 gold albums and 70 platinum albums.
The prices of tickets for the concert range between LE1000 and LE6000.