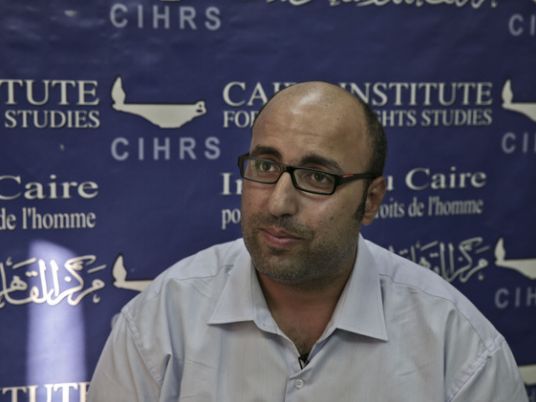 An Egyptian human rights activist said on Thursday that airport security officials prevented him flying to Tunisia and told him he was banned from travel.
Mohamed Zaree, the Egypt office director of the Cairo Institute for Human Rights Studies, told Reuters he was banned from travel due to his involvement in a high profile case where authorities accuse NGOs of receiving foreign funds to sow chaos.
"I went to the airport this morning at 6 a.m. Cairo time and went through passport control. They made a phone call then told me I was on a travel ban list at the orders of an investigative magistrate," Zaree told Reuters.
He said the reason was his involvement in the NGO foreign funding case, which dates back to 2011. The case was revived in recent months with many rights defenders being summoned for questioning, banned from travel or having their assets frozen.
Egyptian rights activists say they are facing the worst assault in their history amid a wider campaign to erase the freedoms won in the 2011 uprising that ended Hosni Mubarak's 30-year rule.
An investigative magistrate had in March banned Egyptian Initiative for Personal Rights (EIPR) founder Hossam Bahgat and Arab Network for Human Rights Information (ANHRI) founder Gamal Eid from travel and froze their assets, a decision that could extend to their respective NGOs if upheld.
Four NGO workers from three other organisations were added to the asset freeze order in April. At least six — the latest of whom is Zaree — have been banned from travel and 10 have been called in questioning, including Radwa Ahmed from ANHRI who was summoned on Thursday.
There was no comment from prosecutors, who banned reporting on the legal details of the case.
U.S. Secretary of State John Kerry said in March he was deeply concerned by the deterioration in the human rights situation in Egypt, including Egypt's decision to reopen the NGO case.