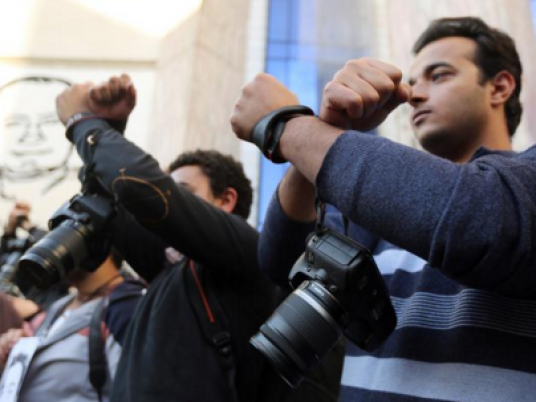 Violations against the press and media personnel in Egypt has doubled over the second-half of 2015 compared to the first half, according to the Association for Freedom of Thought and Expression (AFTE).
In its semi-annual report released Monday, AFTE's media freedom program documented 366 violations against journalists and media personnel in the second half of 2015, compared to 172 cases in the first half, marking a 112 per cent increase in violations.
Documented violations include preventing coverage, illegal detention, confiscation or breaking of equipment, beatings or causing injury, arbitrary dismissal, arrest, raiding a press institution, raiding homes, blocking printing of an issue, among others.
Prevention of media coverage came at the lead of violations perpetrated against the press and media community, with 169 documented cases in the period under study. This was followed by 68 cases of suspension from work, 31 cases of beatings and injury, and 28 cases of confiscation, breaking equipment or deleting material from equipment.
Security forces were responsible for most violations, followed by the judicial authorities and then government officials, according to the report. In addition, press and media bodies themselves have been accused of violating rights of journalists, media personnel and writers while performing their profession, reaching 50 cases of violation.
Geographically, Cairo and Giza witnessed the most violations, with 233 cases in the Capital and 64 cases in Giza.
The report relates the increase in violations during the period under study to the fact that it includes the parliamentary election process, which extended with its two phases over October, November and December.
"Parliamentary elections disclosed the animosity of official bodies towards the camera and its non-changing attitude towards the press," the report stated.
During the elections period, most violations occurred in the form of preventing coverage (83), while security forces were responsible for the largest share of violations (65). The Capital witnessed the most violations (57), followed by Giza (33) during that time.
AFTE documented the cases of 11 detained journalists, who are mostly either still awaiting to be referred to trial or are currently facing trial. These include; Mahmoud Abu Zeid (Shawkan) and Rassd News Network members Samhi Mostafa and Abdullah Al-Fakharany.
According to the Press Syndicate, the number of detained journalists has reached 30.
Egypt ranked second on a list prepared by France-based watchdog Reporters Without Borders of countries which frequently arrested journalists in 2014.
On January 11, a Cairo misdemeanour court sentenced four journalists to three years in prison each on charges of 'publishing false news' and 'membership in an illegal organisation'. The verdict is subject to appeal.
Top Egyptian officials have repeatedly denied that journalists in the country are being targeted because of their work.
In an interview with CNN in September, Egyptian President Abdel Fattah Al-Sisi said that Egypt is witnessing unprecedented freedom of expression.
In August, al-Sisi denied that any journalists are detained in cases related to publishing or press freedom.