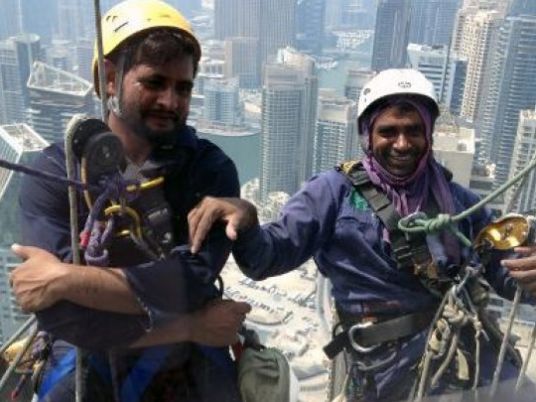 International rights and labour groups called Sunday for urgent action to protect migrant workers from abuse in Gulf countries.
Ahead of a meeting this week of Gulf and Asian labour ministers, 90 groups issued a statement saying millions of Asian and African workers are facing abuses including unpaid wages, confiscation of passports, physical violence and forced labour.
"Whether it's the scale of abuse of domestic workers hidden from public view or the shocking death toll among construction workers, the plight of migrants in the Gulf demands urgent and profound reform," said Rothna Begum, Middle East women's rights researcher at New York-based Human Rights Watch.
HRW was one of the signatories of the statement along with other groups including Amnesty International, the International Trade Union Confederation and the International Domestic Workers Federation.
Ministers from the Gulf Cooperation Council (GCC) and Asian countries are meeting on November 26-27 for the third round of the so-called Abu Dhabi Dialogue on labour migration.
About 23 million foreigners, including at least 2.4 million domestic servants, live in the six-nation GCC that brings together Bahrain, Kuwait, Oman, Qatar, Saudi Arabia and the United Arab Emirates.
GCC countries have come under fire for the kafala system of sponsorship for migrant workers, which is used to varying extents across the Gulf.
It restricts most workers from moving to a new job before their contracts end unless they obtain their employer's consent, trapping many workers in abusive situations, the statement said.
It called for comprehensive laws to protect migrant labourers and reforming the kafala system to allow workers to change employers without permission from their sponsors.