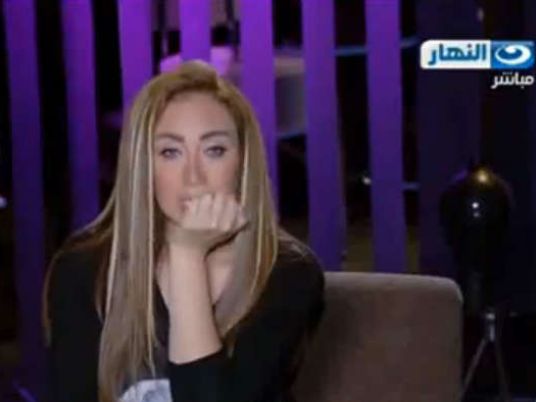 The Giza Misdemeanors Court acquitted host Riham Saeed of charges of ridiculing obese Egyptians.
The first trial session was held in mid-October with Shaaban Saeed as her lawyer.
The lawyer requested that the court dismiss the lawsuit as Saeed was talking generally, without identifying a certain person.
He said Saeed's statements were made in good faith and lacked criminal purpose.
He added that she has the right to criticize in media whatever she wants. He stressed that the lawyer who filed the claim against Saeed had a previous dispute with her, making his claim malicious.
In August, Saeed discussed obese people on television and decried them as a burden to the state, saying that obese women smell unpleasant. The remarks sparked outrage, with Saeed accused of seriously insulting overweight people, especially women.
Egypt's Media Syndicate announced in August that it banned TV host Riham Saeed from appearing on TV for violating syndicate rules.
In a statement, the syndicate said that since Saeed, host of the show "Sabah al-Kheir", is not a syndicate member, she has been banned until she can sort out her legal situation.
The syndicate's decision came just a day after the Supreme Council for Media Regulation summoned Saeed for investigations regarding offensive remarks made about overweight people on her show.
The union informed the Public Prosecution that Saeed was practicing her profession without a license, a violation of the union's rules of registration. It also warned the Al-Hayat satellite channel not to air anyone unregistered with the syndicate.
The Al-Hayat network said that it has suspended Saeed's show, responding to social media fury over her episode on obesity.
Saeed has been suspended multiple times before.
She was suspended for three months in August 2017 for hosting a married woman and her lover on her show, during which guests shared their story of infidelity.
Saeed was also suspended for one month in 2016 after she stated that a woman had brought sexual harassment upon herself by wearing "inappropriate clothing."
Her show had earlier been suspended for one month in 2015 after Saeed ignited public fury for insensitive behavior towards a victim of sexual harassment.