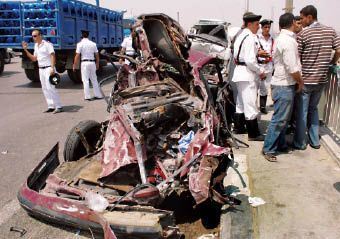 Twenty-two people were killed in a road accident on Tuesday when a truck hit a bus on the Bahariya Oasis-Farafra Road, the Health Ministry said on Wednesday.
The incident occurred 70 km from Wahat city in the New Valley governorate, according to the governorate's security services.
Police, ambulances and civil protection troops headed to the scene, transferring the bodies of 12 of the dead to the mortuary at Farafra Central Hospital, while the rest were taken to Bahariya Oasis Hospital.
Egypt has one of the world's highest traffic accident mortality rates, and deadly collisions such as that on Tuesday night are relatively common.
In December, the government's Central Agency for Public Mobilization and Statistics (CAPMAS) said the number of car accidents during the first half of 2015 rose by 3.5 percent to a total of 6,916 accidents, compared with 6,685 accidents during the same period in 2014.
The number of deaths, however, decreased by 2.7 percent, from 3,025 to 2,808 deaths in the first half of 2015.
Edited translation from Al-Masry Al-Youm