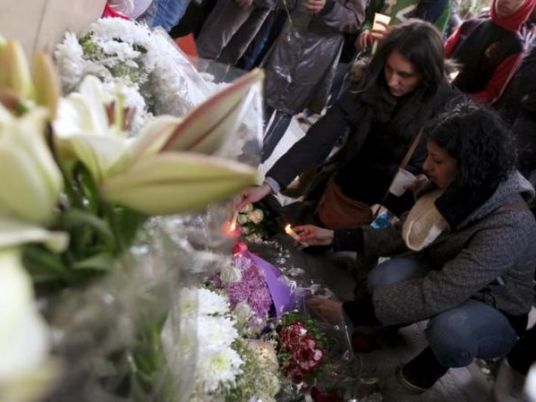 Rome prosecutors sent a formal petition to the British authorities on October 9 to be able to question Giulio Regeni's Cambridge University tutor, Professor Maha Mahfouz Abdel Rahman, La Repubblica reported on Thursday.
The prosecutors asked for the professor's mobile and fixed-line phone records from the period between January 2015 and February 28 2016 "to reconstruct her network of relations," La Repubblica said, adding that the petition is due to alleged "ambiguity and omissions" by her in relation to the probe into the torture and murder of the 28-year-old Italian post-graduate student in Egypt early last year, La Repubblica wrote in an article entitled 'The Lies of Cambridge'.
The article also cites unease expressed by Regeni in two Skype conversations with his mother Paola, leading the Rome prosecutors to ask for clarification on several aspects of the case, the newspaper said.
The aspects the prosecution is seeking to clarify are how the subject of Regeni's research on street traders was chosen, the selection of his tutor in Egypt, the research methods used, and who decided what questions to ask the traders and whether Regeni gave the results of his research to Professor Abdel Rahman during a meeting in Cairo on January 7, 2016.
"I am shocked and angry, "said Rabab al Mahdi, Regeni's tutor at the American University of Cairo, after the allegations and suspicions published in the Italian media on Cambridge Maha Abdelrahman's supervisor and herself.
"Not only are these articles deceptive and reveal a serious lack of understanding of how academic research functions, but also serve to shift the attention from the real question: who tortured and killed Giulio," al Mahdi said.
Rome prosecutors seem to suggest that the way Regeni conducted research in Cairo, including relationships with his supervisors, would explain somehow what happened to him, she said.
"This is absolutely wrong. Let's remember that the video leaked on (Regeni) did not show him while conducting interviews for his research, but while discussing the offer of funding with a member of the union.
Regeni wanted to apply for a £10k funding from the Antipode Foundation, which allocates funds for collaborative projects between academics and activists.
"Similar funds are extremely sensitive in Egypt," al Mahdi said, adding that authorities control every move on funding opportunities. The offer was not part of the research and none of his supervisors were involved in this, she explained.
Al Mahdi responded to the points "that are of utmost interest of investigation to clarify," according to the Prosecutor's Office of Rome. The first of which who chose the theme of Regeni's research.
"The suspicion is that it was Abdelrahman and not him, however, this is not true," al Mahdi said,
According to Al-Mahdi, Regeni was interested in working on Egypt and on this subject before enrolling in the PhD in Cambridge. On February 24, 2016, Gilbert Achcar, a professor at SOAS, revealed that Giulio had contacted him already in 2012 to express interest in working under his supervision to conduct research on independent Egyptian trade unions.
"Having failed to get funding for a doctorate, he decided to go to Egypt for an internship with an UN agency. When he joined the PhD in 2014, he was looking for Maha Abdelrahman as an expert in Egypt and social movements. So it is the opposite: Regeni chose the subject and sought expert supervisors on the subject."
The 28-year-old Cambridge Italian researcher resided in Cairo to do field research for his PhD thesis on independent unions in Egypt. He disappeared last January 25 in central Cairo as police came out in force in anticipation of protests.
His body, bearing signs of torture, was later found by the side of a road.
Police officials at first suggested Regeni might have died in a road accident. They have issued scant information about their investigation.
The Italian government withdrew its ambassador to Egypt in April 2016 over the slow process and stilted investigations into Regeni's brutal murder, which experts and officials widely believe was the work of the state – despite staunch denials by the Egyptian government.
However, in September, a new Italian ambassador took office in Cairo, as Italian Foreign Minister Angelino Alfano, defended the decision to normalize relations, saying Egypt was "an unavoidable partner" with whom it was "impossible not to have high-level political and diplomatic relations."
Regeni's parents called the move a "dressed-up surrender."