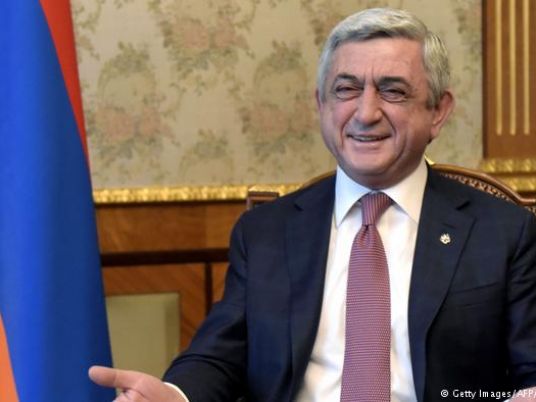 Armenia's pro-Russian ruling party has won the first legislative elections held since the adoption of constitutional reforms that are transforming the country into a parliamentary republic, official results released on Monday showed.
With votes tallied from 99.8 percent of precincts, the central electoral commission said President Serzh Sarkisian's Republican Party beat the main opposition coalition, led by wealthy politician Gagik Tsarukyan, by 49.15 to 27.37 percent.
"According to the elections' early results, the Republican Party has every chance of forming the new government," the party's spokesman, Eduard Sharmazanov, told a news conference.
Another opposition coalition, Elk, and the Dashnaktsutyun nationalist party received 7.78 percent and 6.58 percent of the vote respectively and will also enter the parliament. Turnout was 60.86 percent, the electoral panel said.
The West views Armenia's election as a key democratic test for the landlocked nation of 2.9 million, which has no history of transferring power to the opposition through the ballot box.
The pro-Russian Sarkisian has said his government "made enormous efforts so that (the) milestone vote is flawless."
Violence flared following his election in 2008, with 10 people killed in clashes between police and opposition supporters.
But opposition politicians have reported violations at polling stations after previously warning that the government is preparing mass electoral fraud.
The polls followed constitutional amendments initiated by Sarkisian in 2015 that his opponents say are designed to perpetuate the rule of the Republican party (Karen Minasyan / AFP)
"We have recorded numerous violations at polling stations — violation of ballots' secrecy and multiple voting," Hovsep Khurshudyan, a leader of Ohanyan-Raffi-Oskanyan, an opposition coalition, told AFP on Sunday night.
Before the vote, the EU delegation to Armenia and the US embassy said in a joint statement they were "concerned by allegations of voter intimidation, attempts to buy votes, and the systemic use of administrative resources to aid certain competing parties."
Two Decades in Power
The polls followed constitutional amendments initiated by Sarkisian in 2015 that his opponents say are designed to perpetuate the rule of the Republican party, which has been in power for the last two decades.
The amendments will shift the country away from a strong presidency to a parliamentary form of government after Sarkisian's second and final term ends in 2018.
The opposition says the changes were made to allow Sarkisian, 62, to maintain his grip on power by remaining party leader after he steps down as president.
Sarkisian denies that, saying the changes are "part of Armenia's democratisation process."
Ahead of the vote, Sarkisian told AFP he would remain "active" in politics after he left office by remaining the leader of his party.
"As chairman of the Republican Party, I assume responsibility for my teammates," he said when asked about his post-2018 future.
Both ruling and opposition parties had campaigned on populist promises such as "jobs, wages, pensions," Gevorg Poghosyan, a pollster at the Armenian Sociologists' Association, told AFP.
"That's what matters to the voters" in a country where about 30 percent of the population live under the official poverty line, he said.
Opposition coalition leader Tsarukyan has built his campaign on lavish promises to cut tariffs on natural gas and electricity and hike public-sector salaries and pensions. He accuses the government of failing to address poverty and endemic corruption.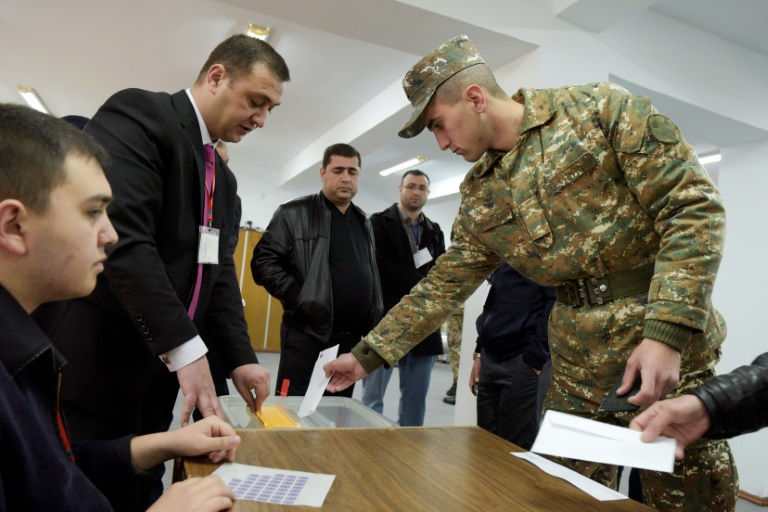 Five parties and four electoral blocs ran in Sunday's vote, with 101 parliamentary seats up for grabs under a system of proportional representation (Karen Minasyan / AFP)
A party needs to clear a five-percent threshold to be represented in parliament, while an electoral bloc — an entity made up of several parties — needs to garner at least seven percent of the vote.
Voting was monitored by observers from the Organisation for Security and Cooperation in Europe (OSCE), who are set to hold a press conference at 10.30 GMT.