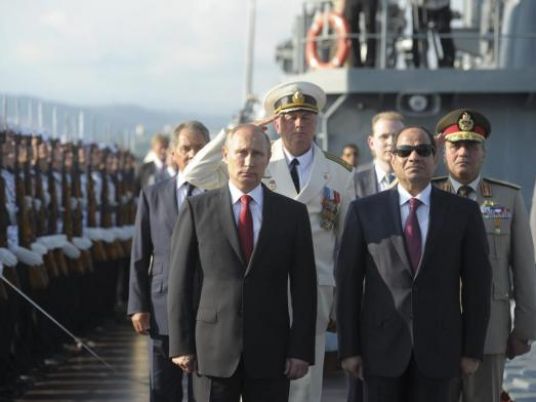 The CEO of Rostec Corporation, Sergey Chemezov, announced at the 2015 Dubai Airshow that Russia was ready to supply Egypt with avionics and Ka-52 helicopters to be placed on board the French ship Mistral if Cairo requests it, according to the Russian Sputnik news agency Monday evening.
"We will dismantle the equipment of the [Mistral], in cooperation with France, and once we are done, the [Mistral] vessels can be sold to Egypt," Chemezov said.
"If Cairo wants the equipment, we are ready to [sell] them and the [Ka-52] helicopters," added Chemezov.
France and Russia signed an agreement in 2011 for two Mistral ships to be manufactured by Russia for France.
The agreement was canceled in 2015.
On October 10, 2015, Egyptian President Abdel Fattah al-Sisi signed an agreement with France to buy the two Mistral ships.
Egypt should receive accurate shooting systems from Russia for the MiG-35 jets in 2016, Sputnik reported.
Edited translation from Al-Masry Al-Youm