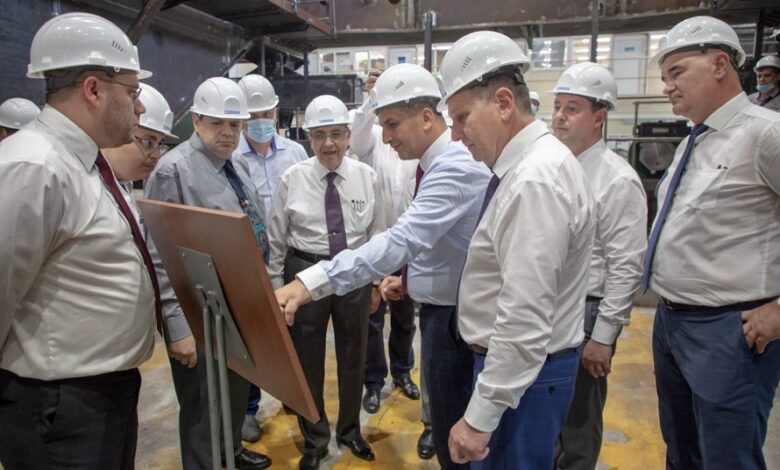 Egypt's Electricity and Renewable Energy Minister Mohamed Shaker participated in the Saturday signing ceremony for a document reviewing the readiness of the Russiah "Atommash" company to start manufacturing the reactor core catcher, the first long-term equipment for the Dabaa nuclear plant project – Egypt's first Nuclear plant.
This came during a visit by high-ranking Egyptian officials and specialists joined Chairman of the Board of Directors of the Nuclear Power Plants Authority (NPPA) Amged al-Wakeel, the Chairman of the Egyptian Agency for Nuclear and Radiological Regulation, Professor Sami Ata-Allah, and other NPPA officials.
The officials toured the factory to review the process for manufacturing the reactor core catcher and to learn of the products manufactured by the company.
Shaker said that the depth of the strategic relations between Egypt and Russia extends for decades, ever since the 60s when a strategic decision was taken to build the High Dam with the Soviet Union, and that choosing a Russian company for this project was a natural development of this bond.
Atommash said in a statement that the delegation grew acquainted with the capabilities of the production site of AEM-technology in Volgodonsk (part of the mechanical engineering division of Rosatom – Atomenergomash) for manufacturing the main equipment for the Dabaa project.
During the visit, the Egyptian specialists visited the production sites for the manufacture of Reactors and Steam Generators – the main equipment of the primary circuit for nuclear power plants, the statement added.
It said that the specialists saw equipment for nuclear power plants in India and China at various stages of manufacturing. The company's specialists demonstrated how the welding of reactor parts, hydraulic tests and various inspection operations are performed.
Edited translation from Al-Masry Al-Youm