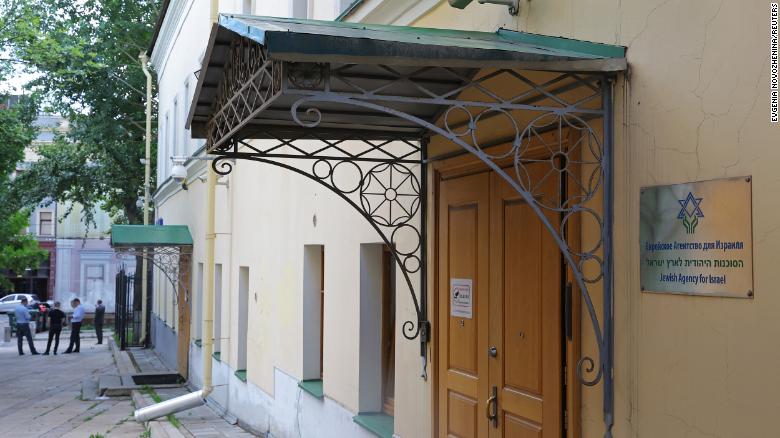 Jerusalem (CNN) – Israeli officials are trying to tamp down the diplomatic fracas that has erupted in recent weeks as Moscow has sought to dissolve the Jewish Agency's Russian branch, an organization that helps Jews emigrate to Israel.
The Jerusalem-based Jewish Agency for Israel encourages and assists Jews, both logistically and financially, who may wish to one day emigrate to Israel. Under Israel's "Law of Return," anyone who is Jewish or can prove they have at least one Jewish grandparent is eligible for Israeli citizenship.
Thousands of Ukrainian and Russian Jewish immigrants have moved to Israel since the start of Russia's invasion of Ukraine, underscoring the particular role the organization can play at a time of war.
Russian news outlets have reported that authorities in Russia are accusing the agency of alleged infringements of local laws, including those related to data collection of Russian citizens. On Thursday, a Russian court will hold a hearing on the Russian government's request to dissolve the organization's operations in the country.
In its public statements, the Jerusalem Agency headquarters has only confirmed that a hearing will take place on Thursday, and that they will "not comment during the legal process."
Initially the situation seemed to be approaching a diplomatic crisis point, as Israeli Prime Minister Yair Lapid warned earlier this week that the attempt to dissolve the Russian branch of the agency "would be a serious event that would affect relations" with Russia.
Under the directive of Lapid and in coordination with the authorities in Russia, an Israeli delegation will leave for Moscow Wednesday evening and hold meetings with the relevant parties in Russia, the Israeli government confirmed.
The Jerusalem Post reported in early July that the Jewish Agency had been under investigation by Russian officials for the past three years. Russian officials officially requested the agency cease its Russian operations just weeks after Lapid took over as caretaker Prime Minister from Naftali Bennett.
In his previous position of foreign minister, Lapid had been one of the most outspoken Israeli leaders in criticizing Russia's invasion of Ukraine.
Russian Foreign Ministry spokeswoman Maria Zakharova told a Russian talk show on Tuesday that Israel had a "pro-Ukrainian" and "biased" stance with regards to Ukraine in recent months.
But after days of heightened tensions, a pair of statements from Lapid and Russian Presidential Spokesperson Dmitry Peskov are being seen as a way to bring the pressure down by focusing on the "legal" aspects.
"This situation should be treated very carefully," Peskov said according to Russia's state-run news agency TASS.
"Indeed, there are questions to the Jewish Agency for Israel from the point of view of complying with Russia's legislation and this situation should not be politicized or projected onto the entire set of Russian-Israeli ties," he added.
Shortly after Peskov's comments, Lapid's spokesperson responded saying, "If there are legal issues that arise in relation to the important activity of the Jewish Agency in Russia, Israel is, as always, ready and prepared to engage in dialogue while maintaining the important relations between the countries."
Israeli President Isaac Herzog, who headed the Jewish Agency from 2018 to 2021, also seemed to be turning the dial down on Tuesday, telling a conference held by Israeli News Channel 13, "The less we talk about it and the more we do, the better."
"Russia is an important country. There could be numerous different scenarios and explanations to why and how this happened," he added.
On Tuesday, Lapid's office made public an exchange of letters between Vladimir Putin and the new Israeli Prime Minister when the latter took up the role four weeks ago, in which the language is cordial.
In a letter sent through the Russian embassy in Tel Aviv, Putin congratulated Lapid on taking office, adding that "Russian-Israeli relations are traditionally friendly in nature."
In response, Lapid said that relations between Russia and Israel are "deep rooted."
Since the invasion, Israel has been performing a diplomatic balancing act in relations with Moscow.
Although it has officially condemned the invasion and regularly sends aid to Ukraine, Israel has yet to send the Ukrainians weapons, and has been criticized for not being more forceful in its criticism of Russia.
Regionally, however, Israel does not want to upset Russia when the Israeli air force is looking to hit targets in Syria. Israel has launched hundreds of strikes against its neighbor in recent years, mostly aimed at disrupting Iran's supply of precision-guided missile technology to Hezbollah. Since Russia entered the Syrian war in 2015, Israel has needed Moscow's tacit approval to carry out such attacks.