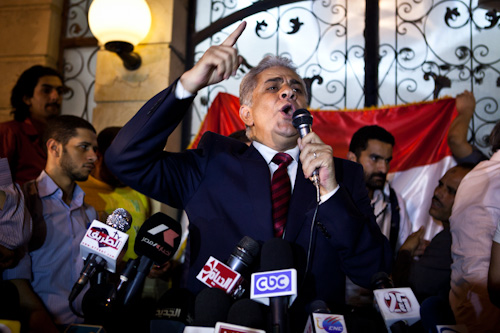 Former presidential hopeful Hamdeen Sabbahi took to Tahrir Square on Monday night, where he called for former Prime Minister Ahmed Shafiq's disqualification from the presidential race and announced the formation of a presidential council with fellow former hopefuls Khaled Ali and Abdel Moneim Abouel Fotouh.
Ali said from Tahrir that they demand the retrial of Hosni Mubarak and the high-ranking security officials who were acquitted of killing protesters during the 18-day uprising in 2011.
Sabbahi told leftist news source Al-Badeel earlier on Monday that demands to form a civilian presidential council to rule the country will continue whether the Freedom and Justice Party's presidential candidate Mohamed Morsy agrees or refuses.
Al-Badeel quoted Sabbahi on this issue following his meeting with Morsy, Abouel Fotouh, Ali, and the head of the Wasat Party, Abul Ela Madi.
"There is no guarantee on the fairness of the coming elections if the political isolation law is not applied," Sabbahi said, confirming that protesters will start a sit-in outside the Parliament buildings and demand a halt to its sessions until the law is endorsed.
"We do not intend to offer these demands to the military council," said Sabbahi, adding that these demands will be put to the public instead, and that the Egyptian people is capable of continuing its revolution and achieving its goals.
Ahmed Gomaa, a member of Sabbahi's presidential campaign, told Al-Masry Al-Youm that Morsy rejected the idea of forming a civilian presidential council and that he insists that the elections are the only way out of the current crisis.
Gomaa told the Dream satellite TV channel in a phone-in interview that he expects the Muslim Brotherhood to join hands with other political powers instead of addressing the demands of the street.
"The Muslim Brotherhood prioritizes its own interests over the interests of the country," he added.