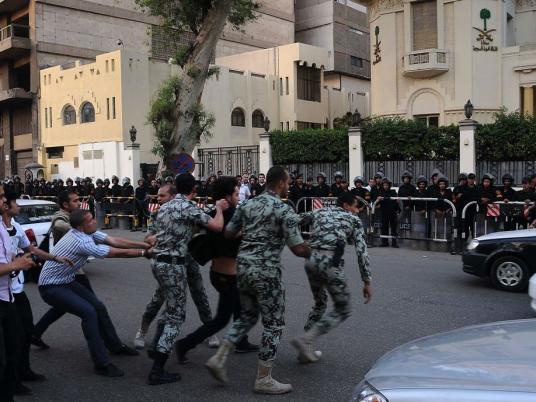 Saudi Ambassador to Egypt Ahmed al-Qattan is expected to return to Cairo on Saturday, following a diplomatic crisis over the detention of an Egyptian human rights lawyer in the kingdom, an Egyptian diplomatic source said Wednesday.
Saudi diplomatic staff members are scheduled to resume work from the embassy in Cairo and two consulates in Alexandria and Suez early next week.
The source, who requested anonymity, said "the two countries are convinced that the family spirit should be maintained in the bilateral relations between the two countries, and this was confirmed by the Saudi monarch during his meeting with [Qattan]."
Mass protests broke out outside the Saudi Embassy in Cairo after protesters learned that Egyptian lawyer Ahmed al-Gizawy had been detained by Saudi authorities, who allege he brought drugs into the country.
The demonstrations were initially spurred by reports that Gizawy had been sentenced in absentia, before his arrival by plane and without notification, to one year in prison and 20 lashes for insulting Saudi King Abdullah bin Abdulaziz.
Saudi Arabia previously recalled its ambassador from Cairo and shut down consulates in Alexandria and Suez.
Egypt repeatedly expressed its regret over the Saudi ambassador's withdrawal and intensive efforts were made to halt the deterioration of relations between the two countries.
The Egyptian-Saudi Business Council held an emergency meeting Wednesday at the Chamber of Commerce in Alexandria that was attended by Saudi and Egyptian council heads Abdallah Dahlan and Ibrahim Mahlab, respectively.
The meeting was "a positive message concerning bilateral relations between the two countries," Federation of Chambers of Commerce Chairman Ahmed al-Wakil said.
Edited translation from Al-Masry Al-Youm