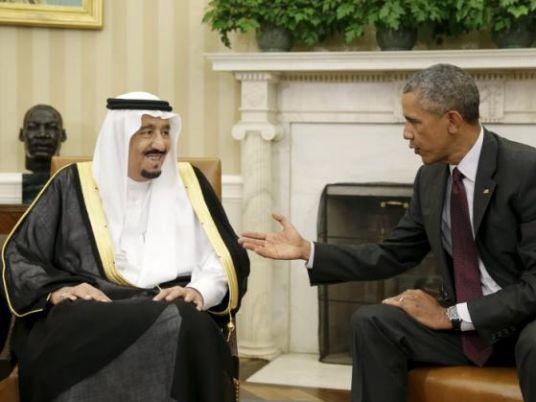 Riyadh (AFP) – Saudi Arabia is ready to join any ground operation the US-led coalition against the Islamic State group in Syria might decide on, a general from the kingdom said on Thursday.
"If there is any willingness in the coalition to go in the ground operation, we will contribute positively in that," Brigadier General Ahmed al-Assiri told AFP.
Since late 2014 Saudi Arabia has been part of a US-led coalition which officially has 65 members and has been bombing the Islamic State Sunni extremist group which seized large parts of Syria and Iraq.
Assiri is spokesman for a separate Saudi-led Arab coalition which, since March, has conducted air strikes and ground operations in Yemen.
That coalition supports the government there in its fight against Huthi rebels who seized much of the country and are backed by the kingdom's regional rival Iran.
Iran is also one of the main allies of Syrian President Bashar al-Assad, whose regime has been fighting an insurgency for about five years.
Saudi Arabia supports more moderate rebels against Assad's forces.
US Defence Secretary Ashton Carter said in January that several members of the US-led coalition against the Islamic State group in Iraq and Syria are doing "nothing at all" to help destroy the jihadists.
The United States has carried out the bulk of the roughly 9,800 air strikes launched in Iraq and Syria since the summer of 2014.
Saudi Arabia carried out high-profile initial air strikes against the jihadists in Syria but participation by the kingdom and other Gulf members of the coalition declined when they began air strikes in Yemen.
"We did not stop our operation in Syria in spite of the operation we have in Yemen," Assiri said.
In November, the United Arab Emirates said it was ready to commit ground troops against jihadists in Syria.
-Bearing the 'burden' –
Quoted by the official WAM news agency, Emirati State Minister for Foreign Affairs Anwar Gargash said the UAE would "participate in any international effort demanding a ground intervention to fight terrorism".
"Regional countries must bear part of the burden" of such an intervention, he said.
The UAE belongs to the US-led coalition carrying out air strikes in territory under the jihadists' control in Syria and Iraq.
It also has troops on the ground in Yemen as part of the Saudi-led coalition there.
There have been growing calls for the anti-IS intervention to expand to a ground force.
Russia launched its own strikes in Syria in late September and Iran has reportedly sent hundreds of troops to support Assad's regime.
Critics — including in the West and Sunni Arab Gulf nations — have accused Russia of targeting moderate rebel forces as well as jihadists.
Gargash also suggested the Saudi-led intervention in Yemen could be "an alternative model" to Western intervention in the region.
US senators John McCain and Lindsey Graham have called for 100,000 foreign soldiers, most from Sunni regional states but also including Americans, to fight IS in Syria.
Assiri's comment came as regime troops pressed a major Russian-backed offensive around Syria's second city Aleppo following the suspension of peace talks.
Western nations accused Syria's regime of damaging the talks with its military offensive, and Washington on Thursday demanded Russia halt its bombing campaign in support of Assad's government.
The growing offensive around Aleppo this week overshadowed peace and aid efforts, as regime forces sought to build on a series of important gains since Russia launched air strikes in September.