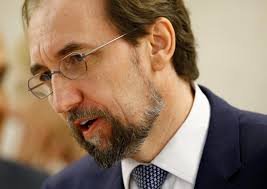 The time is not right for an independent international inquiry into human rights violations in Yemen, Saudi Arabia's ambassador in Geneva said on Wednesday, responding to calls from the UN High Commissioner for Human Rights.
Since 2015, Saudi Arabia and its allies have been bombing the Iran-aligned Houthi movement which controls most of northern Yemen, including the capital Sanaa, in a conflict that has killed more than 10,000 people. The Houthis have in turn fired rockets toward Saudi cities and villages.
The Netherlands and Canada are backing a resolution at the UN Human Rights Council mandating an international inquiry, but Saudi Ambassador Abdulaziz Alwasil said a national Yemeni commission would be in a better position to investigate.
"We are working together to hopefully come to a compromise," Alwasil told reporters.
"We have no objection to the inquiry itself, we just have a discussion about the timing, whether this is the right time to establish an international commission, with the difficulties on the ground," Alwasil said.
Saudi Arabia and its allies are waging their military campaign in support of the internationally recognized Yemeni government and they have the backing of the United States.
UN human rights chief Zeid Ra'ad al-Hussein has long called for an independent international inquiry into the conflict and says Yemen's National Commission is not up to the job of investigating the situation.
Zeid said on Monday there had been only "minimal" efforts at holding people to account in what the United Nations has branded the world's worst humanitarian crisis.
For the past two years the 47-member Human Rights Council has rejected the Dutch demand for an international probe and backed the Saudi view that favors a Yemeni commission.
Alwasil said he again expected the Council to back its stance, adding that a locally formed commission would have better access and connections around the country.
The Saudi envoy said the international community should focus its efforts on gaining access for humanitarian personnel.
The Saudi-led coalition has also has set up a team to investigate civilian casualties. On Tuesday it said it had found a series of deadly airstrikes had been largely justified.