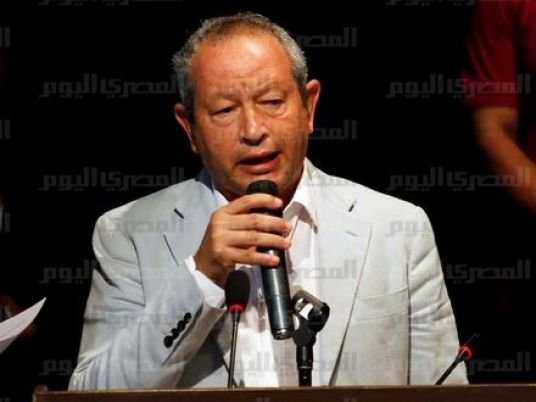 Naguib Sawiris, the Egyptian telecom tycoon, says his motivations for buying his 53 percent stake in Euronews were at least in part political.
"It has a political connotation because channels, such as CNN and BBC are against Egypt," he said in an interview with Al-Masry Al-Youm.
Sawiris hinted that he aims to use his stake in Euronews to influence the media and improve the image of Egypt's new regime abroad to counter international media outlets who often broadcast accusations of internal human rights abuses.
"Euronews can deliver a voice abroad, thanks to its neutrality and independence amid the flood of Qatari finances to Western media as the kingdom pays US$10 million annually just for a single program," he said.
Qatar, who is widely accused of supporting the Muslim Brotherhood, suffered a spat in relations with Egypt after criticizing the ouster of the Brotherhood's leader former President Mohamed Morsi. Al Jazeera, the Doha-based news channel, was consequently banned due to reporting that was critical of Egypt's new military-backed regime, who argued it tried to sow chaos and terrorism into Egyptian society.
Many in Egypt perceive Qatar as being fundamentally against their interests, as Qatari money supports various projects, such as the Al Jazeera news channel and other projects that support the Brotherhood. The country has also hosted exiled Islamist leaders, such as Assem Abdel Magued.
The purchase of Sawiris' stake in Euronews comes amid a backdrop of constant talk in Egyptian media of US and European media advocating against Egyptian interests and supporting the Muslim Brotherhood. Many claims, including those of Egyptian officials even allege the West supports Islamic extremism and terrorism in an attempt to undermine the Arab World.
During the ouster of Morsi, Egypt's first elected president, many Egyptians who were unpleased with his rule were upset when Western media referred to his forced departure by the military as a "coup". They argued that despite the military establishment undertaking his ousting, the unprecedented demonstrations in the streets prove the move had popular support and should not be called a "coup", thus decrying international coverage of events in Egypt as inherently biased and pro-Brotherhood.
In separate statements, Sawiris told journalists in February that Euronews aims to be neutral and will resist state interference from repressive regimes as well as calls from European politicians who are pushing for a counter balance to the Russia's state propaganda. "A news channel should be an open window for all opinions," Sawiris said, the
Guardian
reports.
"A channel can only be successful if it presents both views. If you decide to present one view, or interfere in blocking some people's views, you are not a respectable channel and you lose credibility."
Sawiris, a Coptic Christian, is no fan of the Brotherhood and was in exile during Morsi's regime after being charged with "contempt of religion" for posting a cartoon online with Mickey and Minnie Mouse dressed as conservative Muslims.
He also heavily criticized US policy following Morsi's ouster, saying on Twitter that cutting US aid to Egypt and ending joint exercises would be "arrogant". The Obama administration put a hold on aid after the massacre at Rabaa al-Adaweya and Nahda squares, when military forces violently dispersed protesters calling for Morsi's reinstatement, killing 595 in the process, according to the Egyptian Health Ministry.
"Do not underestimate the dignity of the Egyptians," Sawiris warned in his tweet.