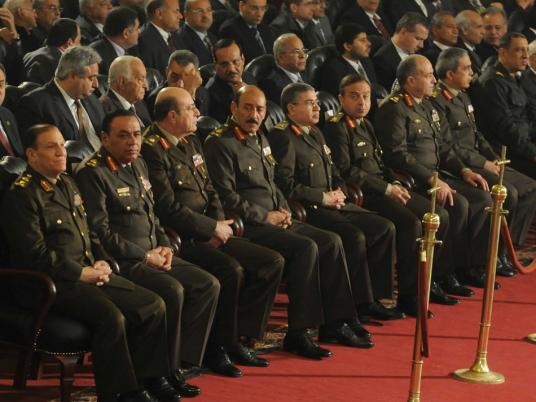 The ruling Supreme Council of the Armed Forces will introduce amendments to the Constitutional Declaration, issued in March 2011, to expand its powers following the Supreme Constitutional Court's order to dissolve parliament, military sources told AFP.
The amendments are expected to grant the SCAF legislative and financial powers.
The formation of the assembly charged with drafting the constitution was suspended after the Supreme Constitutional Court on Thursday dissolved the parliament, saying some of the articles of the parliamentary elections law were unconstitutional.
The supplementary Constitutional Declaration is expected to be issued before the announcement of the presidential elections result this week.
The sources added that the supplementary Constitutional Declaration will constitute important amendments to articles 30, 56 and 60 of the Constitutional Declaration.
Article 56 will be amended to grant the SCAF the power to approve the state budget.
The amendments also include stating that the president of the republic is the chief commander of the armed forces and that he has the right to declare war after getting the approval of the SCAF and the People's Assembly.
Article 60 will be amended to guarantee the representation of all categories of Egyptians in the constitution-writing assembly.
The amendments of Article 30 will state that the new president should swear the oath in front of the Supreme Constitutional Court instead of the People's Assembly, which has been dissolved.
The amendments were agreed on during a recent meeting for members of the SCAF.
Edited translation from AFP